A legitimate reason many people do not attempt to camp is the perceived high cost to buy all of the necessary camping equipment – tents, sleeping bags, stoves, etc.
Yes, borrowing or renting camping gear can reduce the overall cost of a trip substantially. However, if those options are not available to you, purchasing all the necessary camping equipment can end up being quite expensive. But, how do you pick the best camping gear?
As an avid camper and outdoor enthusiast, I've compiled a thorough list of recommended gear you'll need for most camping trips. I've found the best camping gear based on price, durability, functionality, and ease-of-use.
So, make a more informed decision and eventual purchase of your camping equipment with peace of mind without breaking the bank. Let's get into it!
A tent is the foundational piece of equipment for any camping trip. Without careful consideration you might go to bed crammed inside one like a can of sardines or wake up in a pool of rain water.
Tents come in a variety of capacities, ratings and prices. For a family of 4 (two adults, two kids), you'll need adequate space for sleeping pads and sleeping bags, packs and personal items, as well as some elbow room to rest comfortably.
Weather Ratings
A tent that's 100% waterproof is great for climates that experience inclement weather, but it's not essential for everybody. Nor is a tent that is rated for all four seasons. A solid three-season tent usually covers all the bases.
Construct-ability
Some tents are definitely more challenging to erect and disassemble than others. You'll want something that has a simple, yet functional design, that can be erected easily and quickly, which can stand up to rain and wind (without flying off into the sky like the house from The Wizard of Oz).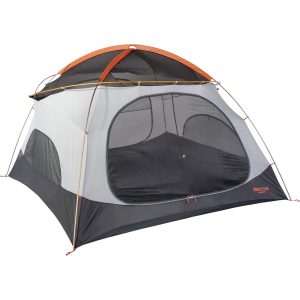 Marmot - Halo 6 Person Family Tent
The Halo 6-person, freestanding, dome-type tent is perfect for larger families and festivals. The simple design takes about 10 minutes to set up. Its size is perfect for tall campers, allowing plenty of standing room for changing comfortably.
And it's great for glamping!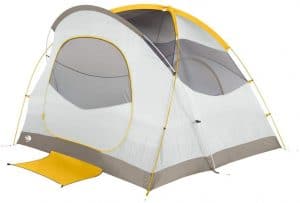 The North Face - Kaiju 4 Person Tent
The Kaiju 4-person tent is perfect for small families and a group of friends. The simple design makes this tent super easy to pitch, even solo. With so many mesh pockets and ample headroom to stand up, you'll rest comfortably in this tent for sure!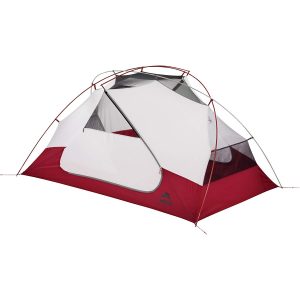 MSR - Elixir 2 Person Tent
Perfect for the backcountry, the Elixir 2-person tent easily fits into any backpack and is very light. Setup and take down are quick and easy and the waterproof design makes it great rain or shine.
2. Sleeping Bags, Pads and Mattresses
A warm and comfortable sleep system can make those cooler than normal camping nights feel like you haven't even left home.
Temperature Ratings
Just like tents, sleeping bags come in a variety of ratings. The rating is an indication of how well the material can insulate and is indicative of the outside temperature you can sleep in. For example, a +5oC sleeping bag is suitable for use down to an overnight low temperature of +5oC.
Insulation
The insulating material is the key how a sleeping bag works. There are two main types of insulation: natural and synthetic. Natural insulation is usually goose down feathers whereas modern synthetic insulation consists of nylon, polyester.
Synthetic vs. Down Filling
From a performance stand-point, although synthetics cost much less than down, a synthetic-filled sleeping bag won't maintain its insulating rating in the long term. Synthetic is great for wet conditions, maintaining it's properties damp, and is non-allergenic for campers who are sensitive to natural fibers. However, the thermal insulating efficiency, pack-ability and durability of down-filled sleeping bags can't be beat.  
Bottom line, for high performance and backcountry camping, choose a down-filled sleeping bag. For leisure camping, like car camping, synthetic-filled sleeping bags are good.
Pads vs. Mattresses
Sleeping pads are ultra portable and compact compared to large, blow-up mattresses.
Sleeping pads are typically constructed of foam or fabric coated plastic which can be inflated using a blow nozzle and good old-fashioned lung power. Pads are usually sized for a single person use and are the perfect for the backcountry camping.
Blow up mattresses are typically heavier but offer much more comfort. They are great for families or individuals who need extra support at night. Because they are larger and heavier, blow up mattresses are typically used for car camping only. An electric or hand pump is also required for inflation, which is typically included.
Depending on your camping needs, select the right mattress type for you and your family. Personally, since we mostly backcountry camp, we have the individual type mattresses and they work perfectly well for car camping too.
My Top Picks for Sleeping Bags, Pads and Mattresses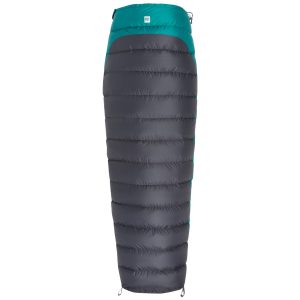 MEC - Gosling Down Sleeping Bag
The gosling sleeping bag from MEC is a perfect 3-season sleeping bag. It's down insulation is warm and comfortable and packs down small, saving precious space in your pack. It's rated for +5°C.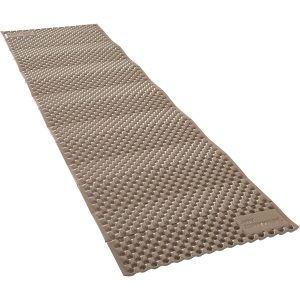 Therm-a-Rest - Z Lite Foam Sleeping Pad
The Term-a-Rest Lite foam sleeping pad is inexpensive yet comfortable option to use for camping. No need to blow or pump air into it; it's ready to sleep on. It can be folded up and strapped to the outside of your pack and is very light-weight. The foam and reflective coating keeps your body supported and insulated from the ground.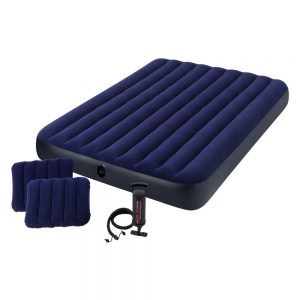 To ensure maximum comfort, the Intex airbed is your heavenly cloud in the woods. After a little bit of hand pumping, you're assured to have a comfortable and well supported sleep. 
It's large enough for two people, but just make sure the dimensions work with your tent!
Cooking while camping has become a culinary experience in recent decades. No longer are campers relegated to managing a wood fire to heat and cook meals. Instead, camp stoves have given campers flexibility and portability. You can pretty much cook anything in the woods now!
Fuel Types
When selecting a camping stove, there are several fuel options available. They can be broken down into two primary types: liquid and gas. Liquid fuels include white gas (naphtha), kerosene, diesel, gasoline, and alcohol. Gaseous fuels include propane and butane canisters.
Gas Fuel
Gas canisters are convenient, light-weight (up to a point), low-maintenance, and low cost (again, up to a point). For a quick weekend trip, with light to moderate cooking, in warm to moderate climates, a gas fueled stove is a no-brainer.
Liquid Fuel
Liquid fuels are more versatile, are able operate in cold climates, and are more widely available than gas canisters worldwide. For extended trips, in lower temperatures or higher altitudes, a liquid fueled stove is a must.
Weight
Gas canister stoves are by far the lighter choice when it boils down to weight. However, depending on the duration of your trip and the total cooking time you're planning, a liquid fueled stove might be the overall winner.
Multiple filled (and empty) gas canisters start adding to your overall pack weight. Alternatively, a liquid fuel bottle may weigh less than multiple canisters for an equivalent amount of cooking.
Fuel Cost / Budget
If you're concerned about budget, the most significant cost influencer is fuel. Gas stoves are usually cheaper than liquid fuel stoves. However, gas canisters are significantly more expensive than liquid fuels, on a per hour of cooking basis. Based on cooking metrics from MSR.com, one hour of cooking with a gas canister will cost about $6.00, whereas an hour cooking with white gas is about $1.50.
It's obvious that if you plan on using your stove a lot, liquid fuel is the hands down long term winner. But, for infrequent and shorter trips, gas canisters are acceptable.
For more information, visit https://www.msrgear.com/blog/canister-stoves-vs-liquid-fuel/.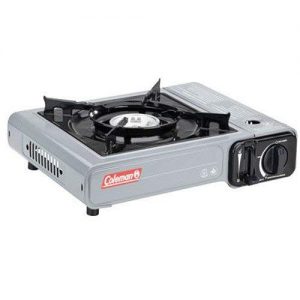 Coleman - Single Burner Butane Stove
Great for couples or individuals, the Coleman single burner stove is perfect for short camping adventures. 
The butane canisters are simple to plug in, last for a long time, and are disposable. The stove also comes in a handy carrying case, making it easy to pack and unpack as needed. Plus, it has an electrical ignition build in; no need for matches!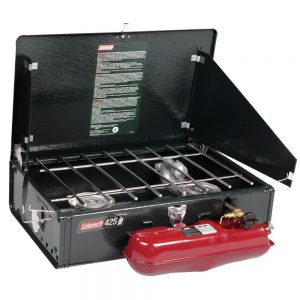 Coleman - 2 Burner Liquid Fuel Stove
The Coleman 2 burner liquid fuel stove is great for extended family camping trips. The pop-up windshields keep the wind at bay so you can use fuel more efficiently. 
The simple design is easy to set up and maintenance is very low. 
To cook a variety of meals while camping, versatile cookware is important. Whether you need to boil some water for pasta, or pan-sear a steak to perfection, the right cooking equipment can make it easier and faster to enjoy your meals. 
And for me, equipment that is also easy to clean and maintain is another huge factor influencing my purchasing decision.
Cookware Materials
The biggest driver that influences cookware performance is build material. Different base metals and coatings can help spread heat evenly and make cleanup a breeze, saving you fuel and time.
Stainless Steel and Aluminum
Stainless steel and aluminum are widely used for cookware. Pots and pans made from stainless steel and aluminum can take a beating and still work perfectly. They're robust materials that can withstand high temperatures and are corrosion resistant. They're relatively inexpensive and moderately lightweight making them great options for budget conscious buyers.
Cast Iron
Your grandparents will swear by this – well seasoned cast iron pots and pans are great for cooking. They cook food evenly and can usually last a lifetime if properly maintained, which is also the main reason many do not like to use them. Cast iron requires special care to prevent rust from developing, and to maintain a non-stick surface.
And, cast iron is a lot heavier than most other materials. For car camping they're great but for backpacking trips they can really weigh down your pack. So, although cast iron is a literally bulletproof (thanks for the demonstration, Marty McFly), it should only be used when weight and clean-up isn't critical.
Titanium
Titanium is a light-weight, durable and high-temperature resistant material. A cool aspect of titanium is its natural oxide ceramic coating that is corrosion resistant. Titanium is very resilient and can take a beating day after day and still fulfill all your cooking needs.
The main drawback to Titanium is its high price. Because it's so versatile and useful, but also very hard to manufacture, equipment made from titanium is usually the more expensive option on store shelves. 
But, if you want high performance and are willing to pay a premium price for it, titanium is the way to go.
Non-Stick Coatings (Teflon vs. Ceramic)
To keep cleanup to a minimum, many campers prefer cookware coated with a non-stick surface. Teflon is commonly used since it's a relatively inexpensive coating to add to metals. However, it is prone to scratching off if a harder material comes into contact with it. And, it cannot be used in high temperature applications.
Ceramic coatings have recently emerged as a fantastic non-stick alternative. Ceramics are scratch resistant and can withstand higher temperatures making them perfect for frying up fish or searing steak. Although ceramic coated pots and pans are more expensive, they can last a lot longer and don't require special cleaning considerations.
My Top Picks for Cookware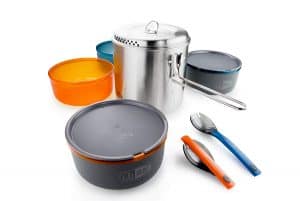 GSI - Stainless Dualist Cookset
The stainless steel combination pot/pan is great for couples who adventure into the backcountry. The cook-set comes with a pair of bowls, cups, koozies, and sporks. 
The great part is that everything nests perfectly inside the pot, so it takes up very little space in your pack.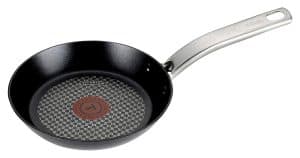 T-fal - Titanium Nonstick Frypan (11.5 inch)
Great for eggs, stir-frying veggies, or searing meat, the T-fal titanium frypan is a great option for any camping trip. 
It's lightweight yet durable so it'll make cooking a lot more easier.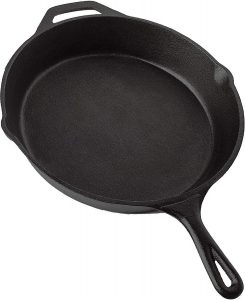 Utopia - Cast Iron Skillet (12.5 inch)
This cast iron skillet is an absolute beast when it comes to cooking food while camping. Although it'll take much longer to heat up, it will retain heat for longer and ensure food cook much faster and more evenly. 
If you want perfect steak while camping, make sure you pick up this skillet!
5. Water Filtration & Purification
Treated water (via filtration and/or purification) will keep you hydrated and prevent sickness from water-borne diseases.
There is a difference between water filtration and purification. Water filters physically remove larger micro-organisms such as bacteria (E. coli, Giardi). If you're travelling within Canada or the US, you'll only need to be concerned about these biological pathogens. 
On the other hand, water purifiers chemically treat water for viruses (hepatitis A, norovirus) that are too small for filters. Less-developed areas of the world require water purification.
If you are trekking in areas with mountain springs or glacial run-off, the water quality might be good enough to not require treatment. However, river or lake water will definitely require treatment prior to consumption.
Gravity vs. Pump Filters
There are two types of water filters on the market: gravity and pump filters. Like the name implies, a gravity filter is a passive system. There are no moving parts, only a dirty water reservoir, a filter cartridge, and some tubing to connect everything together.
A great option for most types of camping is a gravity filter system – just fill the reservoir with water, hang it up and let gravity and the filter do the rest. The only thing you need to do is back-flush the filter if the flow drastically decreases.
A pump filter has a mechanical lever which requires you to physically "pump" water through the filtration unit. These types of filters maintain a high flow rate which is mostly dictated by your pumping ability. And when it starts to get too hard to pump, a back-flush is required.
Pump-action filters are a great if you need on-the-go water, for example, while hiking, or canoeing when you can't spend time waiting for a gravity filter to do its magic.
Personally, I prefer gravity filters since they are easy to setup and are low maintenance.
Water Purification Tablets and Drops
Chemically treating water purifies and kills various biological organisms and pathogens. Contaminants such as bacteria, viruses, parasites and other water borne diseases will be removed.
By far, the best and most powerful chemical treatment for campers is chlorine dioxide tablets. These tablets are effective against bacteria, viruses, giardia and even cryptosporidium. The tablets do not affect the taste of the water. The treatment time is 45 minutes, however, it takes 4 hours to fully purify the water against cryptosporidium.
Iodine and chlorine (bleach) tablets and solutions are also suitable options which are fast acting (30-45 minutes to be effective). The options, however, do not treat cryptosporidium.
Before heading out, check to see if the area you will be camping in requires any water purification considerations.
Water Storage
Once filtered and/or purified, a decent amount of clean water needs to be stored at your campsite for quick and easy access. A large water storage container with an adjustable spout is perfect.
For car camping trips, I recommend a simple, hard plastic water container. You can fill it up and leave it on a picnic table. 
For backpacking trips, I recommend a collapsible plastic container which can be easily packed.
My Top Picks for Water Filters, Purification Tablets & Storage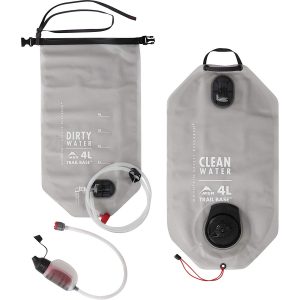 MSR - Gravity Water Filter
The MSR gravity water filter is the best "set it and forget it" water filter on the market. The super simple, two bladder design makes gaining access to clean water ridiculously simple. 
Great for backcountry trips, I carry this water filtration system on all my camping trips so I never have to worry about not having clean water.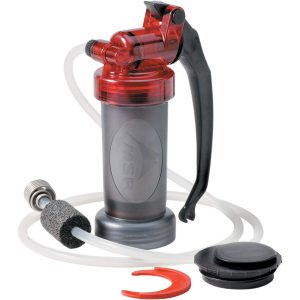 A pump water filter is great if you can't wait for a gravity filter to do its job. 
This filter actually screws onto your water bottle and filters water directly into it for fast, clean water on the go!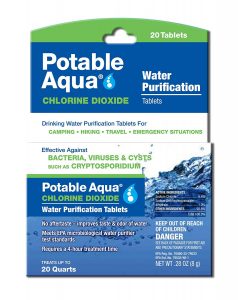 Portable Aqua - Chlorine Dioxide Water Purification Tablets
The fully purify water, these chlorine dioxide tablets quickly treat large volumes of water for bacteria, viruses and cysts. 
If you're in a region of the world that may contain contaminated water sources, these tablets offer plenty of peace of mind.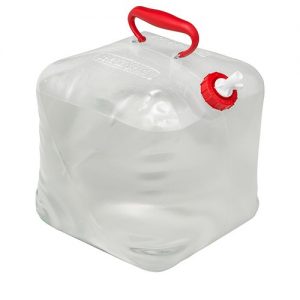 Reliance - Folding Water Storage Container
To capture and store a large amount of clean water, these folding water storage containers are wonderful. 
They are lightweight, durable and come with an adjustable spot for pouring. 
Whether you need it for navigating the trail after dark, prepping your campsite before bed or using camera gear for night photography, proper lighting is important for any camping trip.
When selecting a flashlight or headlamp, choose ones with multiple light intensities (high/medium/low) and beam sizes (focused/wide angle). For headlamps, find one that is a comfortable to wear with an adjustable strap and adjustable illumination angle.
Brightness (Lumens) Requirements
The brightness for a light source is measured in lumens. The higher the lumens the higher the brightness. When selecting a lamp, look for ones that have the ability to vary the brightness and have a high ultimate lumen rating (200 and up).
Rechargeable vs. Disposable Batteries
Rechargeable lamps are fantastic options for use at home or for short, local camping trips. Lamps usually connect via USB cable to a wall outlet, power bank or solar charger and recharge like any other wireless device.
However, for extend or international trips where access to power might be hit or miss, standard disposable batteries (AA or AAA) are much better. And, you won't have to worry about bringing power adapters. 
You can walk into any convenience store and find batteries. And, as a worst case, you can bring extra batteries with you.
Red Light Functionality
Many lamps have a red light function that helps maintain your night-vision. It's super handy when you don't want to disturb your sleeping partners or wildlife with white-light pollution.
My Top Picks for Lighting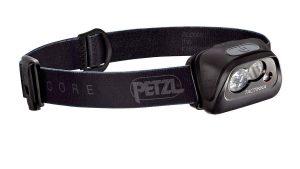 Petzl - Tactikka Headlamp
Setting up camp in the dark, trail hiking at night or even when spelunking, this headlamp by Petzl is great to light up your way. The adjustable, wide strap makes wearing it super comfortable. It has adjustable brightness and red light function. 
If you go camping or even hiking, and it might get late, keep this headlamp in your pack so you don't have to worry about finding your way in the darkness!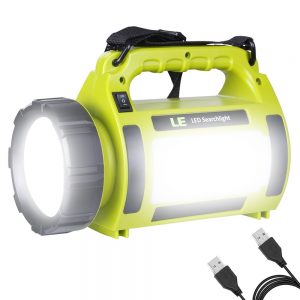 This rechargeable combination searchlight and lantern is great for car camping. The focused beam is useful for shining light long distances. 
The lantern function is great for picnic tables or inside tents when the sun goes down.
Not only do tarps prevent rain water from soaking you and your gear, it also provides shade from the sun and deflects heavy winds. When I camp in unsettled weather, I make sure I have quick access to my tarp and set it up as soon as I arrive to my campsite.
Materials
To ensure a waterproof and lightweight design, most tarps are made out of durable plastics with a waterproof coating.
Durable but heavier tarps are made from canvas, vinyl, polyester, polypropylene, or Tyvek with polyethylene coatings. Lightweight backpacking tarps are made from cuben fiber or nylon with silicone coatings.
For car camping trips, you can use heavier tarps since you won't need to pack them into and out of your site. For hike-thru or backcountry trips, a lightweight tarp ensures protection against the weather without adding too much weight to your pack.
Size
Tarps come in variety of sizes, mostly squared or rectangular. The ultimate size of your tarp depends on three main things: The size of your camping party, the location of your campsite, and the type of camping you are doing.
A larger group of people usually requires a larger covered area. A single, large tarp can be erected with a few tie-points instead of stringing up multiple smaller tarps with multiple tie-points.
However, smaller tarps can be positioned in a way to better cover tents, a picnic table or a gathering area. This is especially true if your campsite has a sporadic amount of trees to form tie-points. 
Also, for hike-thru, backpacking or canoe camping trips, a compact tarp is much better suited for your pack. It will cut down on weight yet still provide weather protection should you need it.  
Grommets and Tie-downs
Grommets are the metal rings punched into the ends of tarps which are used to secure your tarp to an anchor point. Lots of grommets mean a lot of places you can attach ropes to to string up your tarp.
Trees, larger structures and ground stakes can be used to prop up and anchor your tarp. To attach your tarp to these anchor points, you need tie-down materials.
The best tie-down material is paracord rope. It's lightweight but very strong and durable. I usually get a very long length of paracord and cut it into 5 meter and 10 meter lengths. 
This ensures I have plenty of length to reach trees, wrap it around them and tie it off.
My Top Picks for Tarps and Rope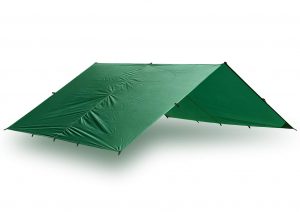 This 100% waterproof tarp will keep you and your gear completely dry, even in the most extreme weather conditions! It's ultralight and compact, and packs up in its own carrying sack. 
Great for the backcountry, the tarp is built with plenty of reinforced webbing loops and can be strung up easily.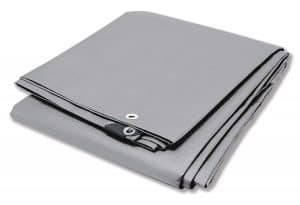 Performance Tool - Heavy Duty Tarp
If you're car camping and rain is in the forecast then you have to bring a heavy duty tarp with you; trust me! These plastic tarps cover a large area and can take a beating. 
Heavy winds, relentless rain, and even falling branches, this tarp will keep you dry through it all.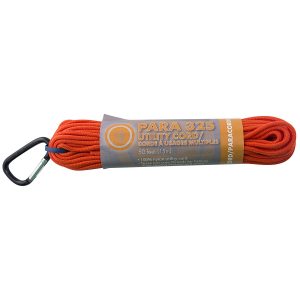 Paracord is the best rope to string up tarps. It's thin and lightweight yet strong. I recommend purchasing a long length of paracord then cutting it down into equal sized lengths. 
These individual pieces of rope can then be used to tie your tarp to trees, ground stakes or any fixture.
Processing standing dead wood or splitting logs into fire sticks and kindling is a staple camping activity. So, having a quality axe, hatchet or saw can make quick work of even the most stubborn timbers and logs. 
But, not all wood processing jobs are created equal. Likewise, not all camping trips are in need of a burly axe or saw that would make a lumberjack blush.
Axes vs. Hatchets vs. Saws
Simply put, axes and hatchets are handy tools for chopping and splitting wood. Saws are an efficient alternative for cutting timbers and thick branches down to more manageable sizes. But, what should you bring camping: an axe, a hatchet or a saw?
Personally, I carry my Bahco folding saw and hatchet for all my camping trips. The combination makes prepping firewood quick and easy. Plus, it keeps the overall weight of my pack low, so I'm far less fatigued overall.
Axes
Axes are wood processing work horses! They are tailor made to take down large timbers and make quick work of a pile of logs into firewood. Most axes tend to be larger and heavier than hatchets, relegating them to car camping or cottage trips.
Axes have a large cutting head and a long handle to give you the most leverage when striking wood. Because they are longer and heavier, axes require both hands for safe use. Also, axes need to plenty of room to properly backswing so they aren't meant for use in confined areas.
Hatchets
Hatchets are typically smaller and more compact than axes making them ideal for backpacking camping trips. Since Hatchets are smaller and weigh far less than axes, they can be used to fell small diameter trees, up to 4 inches in diameter. However, splitting wood is a bit more challenging but if the wood is softer and not too large a hatchet can do the job.
Hatchets are small enough for single handed use and can be strapped onto the side of a backpack or on a waist holster. They can be used to shave bark, produce kindling and process animals.
Saws
Saws are used for cutting timbers and thick branches down to more manageable sizes. I find the serrated cutting blade to be more efficient at cutting timbers than hacking away with an axe or hatchet.
The size of timbers and branches a saw can cut is limited by the saw size. For most camping trips, you'll be only needing to fell small trees and cut small branches, 6 inches in diameter or less. A saw with a blade that is a few inches longer than that is more than adequate.
Folding saws are also far more portable but limited in size since the blade collapses into the handle. Folding blades are also lighter since they don't need a sheath or a carrying case.
My Top Picks for Axes & Saws

A large axe is great for felling large trees or chopping logs into firewood quickly and easily. 
The blade and handle is design to efficiently cut timbers, saving you energy and time.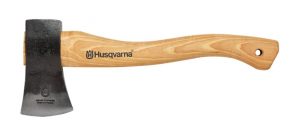 Husqvarna - Hatchet (13")
For most camping trips, a small hatchet is all your need! You can cut branches, split small logs and shave kindling for a fire. 
The compact design fits easily onto the side of a pack. Plus, the flat side of the blade can be used as a hammer for ground stakes.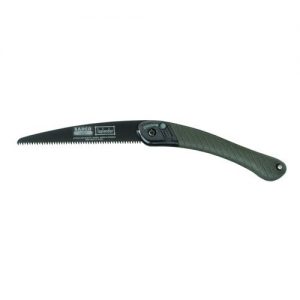 Bahco - Laplander Folding Saw (8" Blade)
I was very sceptical at first about bringing a saw camping when I'm already bringing an axe. However, I quickly found out how useful having a saw + hatchet combination really is. 
The saw quickly and easily cuts through small diameter timbers and branches. It's much more efficient than using an axes for these smaller tasks. 
There's one piece of gear that never leaves my side during all of my camping trips; my knife. It's holstered on my belt for quick and easy access, both on the trail and in my campsite. 
So, whether I'm setting up my campsite, making feather sticks for a fire or chopping veggies for a meal, my knife is constantly being used.
A good camping knife is not only sharp and durable, but it's also versatile and comfortable to use. 
For an in-depth guide to selecting a camp knife that is best suited for your needs, check out Camping Lessons: How to Pick the Best Camping Knife.
The holy grail of knives can do it all – chop wood, process game, prep food, fix equipment and offer personal protection. They combine design elements from their dedicated knife counterparts and offer a combined tool ready to handle any task thrown their way.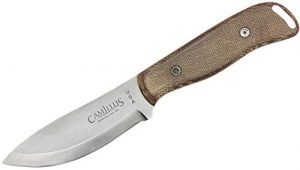 I actually own this knife myself and I use it constantly while camping. 
Chopping vegetables, cutting meats, or making feather sticks, this knife is so sharp and comfortable to use. It's strapped to my waist all day long!
Type: Fixed Blade
Length: 4.0" blade, 8.5" overall
Handle: Micarta
Sheath: Leather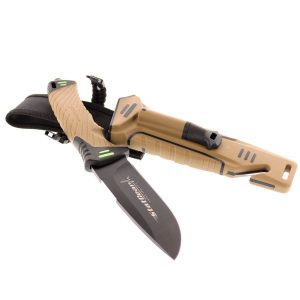 For survivalists, this knife is an all-around winner. 
Not only is the knife aspects top-notch, it comes with so many other cool features you'll be constantly using this knife and sheath system. 
Type: Fixed Blade
Length: 4.25" blade, 9.5" overall
Handle: Rubber
Sheath: Plastic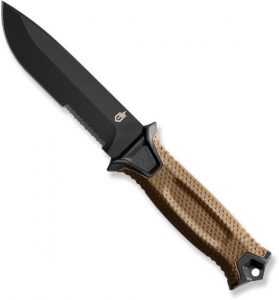 This no non-sense Gerber knife is an outdoor enthusiasts dream. It's simple yet fully functional. 
From woodworking to cutting veggies, this knife is the perfect companion for any camp related task.
Type: Fixed Blade
Length: 4.8" blade, 9.8" overall
Handle: Rubber
Sheath: Plastic
There's nothing more appealing to me than lounging around a crackling camp fire sipping on an ice cold cooler (yes, I drink coolers!). But a key piece to this blissful scene is a solid camp chair.
Like many of the items discussed above, a camp chair needs to be both supportive and compact, yet light-weight and sturdy. A great camp chair boils down to two clashing attributes: Comfort and portability. Why can't we have both… Well, you can!
Comfort
A camp chair is supposed to be a place of refuge. It's a place where your body can relax completely and melt all your stresses away. But, comfort comes at a cost and that cost is usually added weight.
A La-Z-Boy inspired camp chair that is comfy, and padded, with cup holders and a foot rest, isn't the most practical item to bring camping. However, there are many chairs on the market that offer "luxury" camping qualities, often at a luxurious price.
Personally, my perfect camp chair has plenty of back support after those long hiking days. It has a solid base that doesn't tip over easily if I decide to lean back a bit more than normal. And its design molds to my body so I feel extra supported, like a perfectly sized bra (ladies, you get it!).
No need for bells or whistles, or arm supports for that matter. Just a simple, yet functional design that let's my body rest and recover.
Portability
A great camp chair also easily fits into your car or packs into your backpack. It folds open and closed with ease, and only adds a little weight to your total load.
But, chances are the most packable and portable camp chair probably isn't the most comfortable. This is where portability and comfort intersect.
If the majority of time you are car camping, you can afford to bring a camp chair that is bigger and heavier. However, that same camp chair probably won't be suitable for canoe camping or backpacking trips.
My Top Picks for Camp Chairs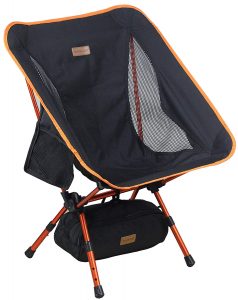 Trekology - Portable Camping Chair
These compact chairs are a very nice luxury for backcountry camping trips. The poles quickly snap together and the fabric seat is easy to install. 
After a long days work, you can rest and heal in these wonderful chairs.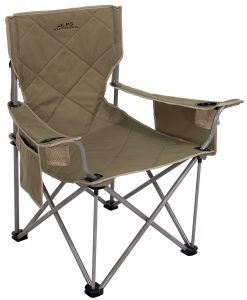 A throne away from home, the King Kong chair is comfort and functionality blissfulness. 
Complete with dual cup holders and side pockets, this chair is great for car camping trips. So, pull up a chair, relax and unwind. 
Premium gear usually comes at a premium price, but there are so many options out there to choose from. Tents, sleeping bags, stoves, cookware – all of the essentials come at a variety of price points to fit most budgets. 
So, you really don't have to take out a second mortgage or sell a kidney to enjoy the great outdoors. But, if you're are selling…
I hope you're now better informed about your next camping related purchases. Let me know what camping equipment you're interested in purchasing and what questions you might have in the comments section below!
This article contains affiliate links, which help support this blog at no cost to you!