In the not so distant past, the words "camping" and "comfortable" were not synonymous with each other.
However, with an ever increasing number of people interested in outdoor adventures, more people are camping than ever.
So, to help new and would-be campers ease themselves into camping, here are 10 expert ways how to make your first or next camping trip a whole lot more comfortable!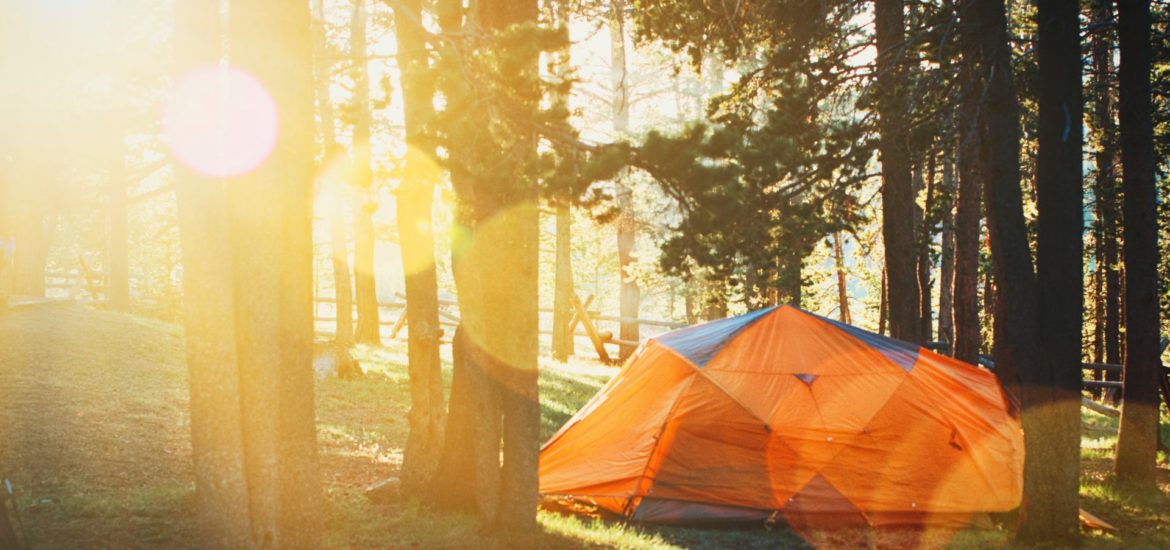 1. Find a Shaded Campsite During Summer Months
Camping over the summer months is by far the most popular time of year to enjoy the outdoors. The warm weather and longer days makes enjoying the outdoors a lot more accessible.
However, during the summer moths, some regions can experience extremely hot periods. And without protection from the sun, you can quickly become victim to sunburns, heat exhaustion, and sun-stroke.
So, when looking for and picking a campsite during the summer, it's a good idea to find a site that has lots of natural shade.
A site with tall trees can provide protection from the sun's intensity throughout the day, especially between the hours of 12 to 3 pm -that's typically when the day is the hottest
Applying sunscreen, keeping hydrated, and cooling off in the shade will all help make camping in the summer a lot more comfortable and enjoyable!
Pro-tip: Setting up a tarp for shade can be a great way to find respite from the sun. Check out my article and video for a step-by-step guide on How to Set Up a Tarp.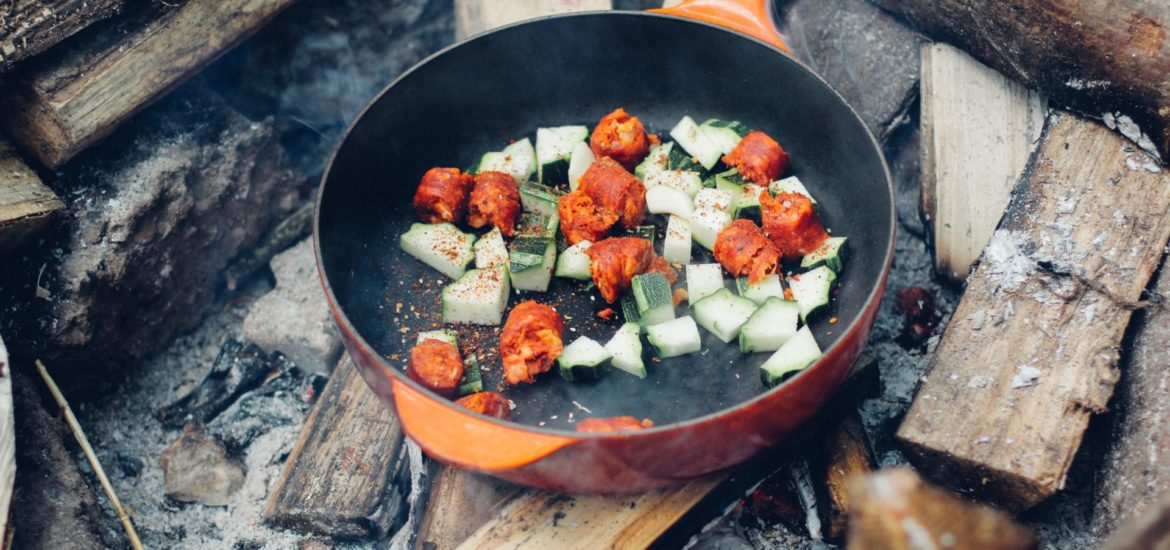 2. Eat Simple, Yet Delicious Camping Meals
An easy way to overcomplicate camping is by attempting to cook extravagant meals.
With so many ingredients, cookware, and cook time, complicated meals can quickly burn through your time.
This can be especially true for new campers who might be cooking outdoors for the first time.
So, instead of slaving over each meal, it's a good idea to plan to eat simple, yet delicious camping meals.
Now, this doesn't mean buying and eating pre-packaged meals. Yes, pre-packaged meals are simple to cook; however, they are loaded with salt and may not be as filling as you'd think.
Some of my favourite camp meals include hotdogs, burgers, scrambled eggs, beans and toast, and lasagna soup. They're all relatively easy to make, super delicious, and not at all complicated.
Simple meals can definitely make cooking and eating outdoors feel more comfortable.
Pro-tip: If you're looking for camping meal ideas, check out my article 7 Mouth-Watering Plant-based Meals.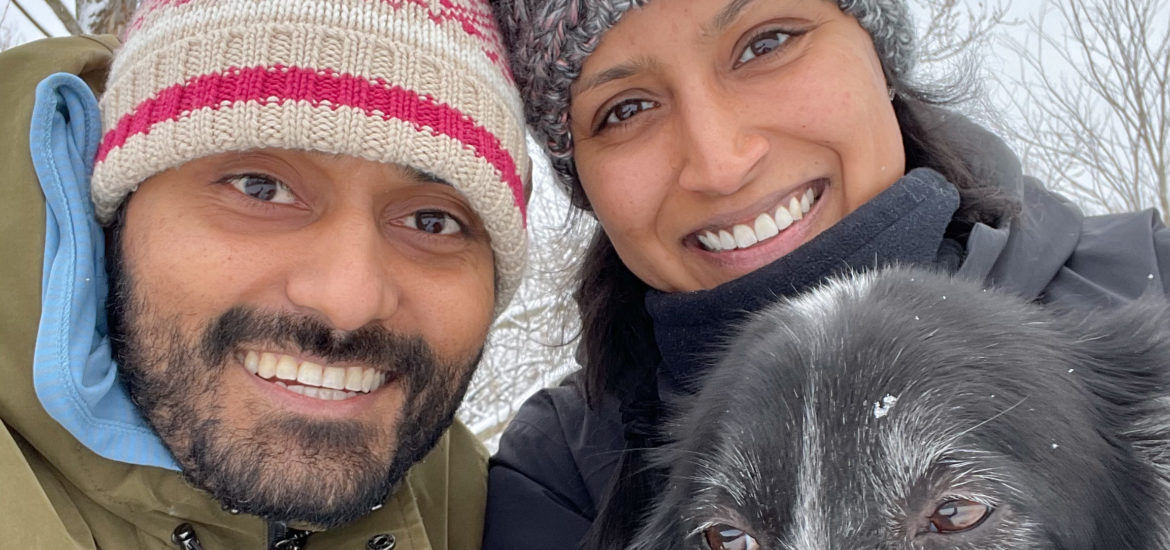 3. Pack Extra Clothing Layers
More often than not, the weatherman can be wrong and the camping forecast can neglect periods of rain or unexpected drops in temperature.
Additionally, micro-climates can develop in certain camping areas which can cause the atmospheric conditions to vary quite drastically throughout the day. This is especially true for valley and alpine environments where the weather can shift quite rapidly.
So, to stay comfortable during all sorts of weather conditions while camping, it's important to pack and wear extra layers of clothes.
Each layer (base, mid, outer) provides added protection from rain, wind, and cold. You can easily add or remove layers to suit the environment, to keep warm and dry or to cool off!
Pro-tip: For a complete guide to outdoor clothing, including information on fabric materials, clothing layers, and recommended gear, check out What Clothes to Bring Camping.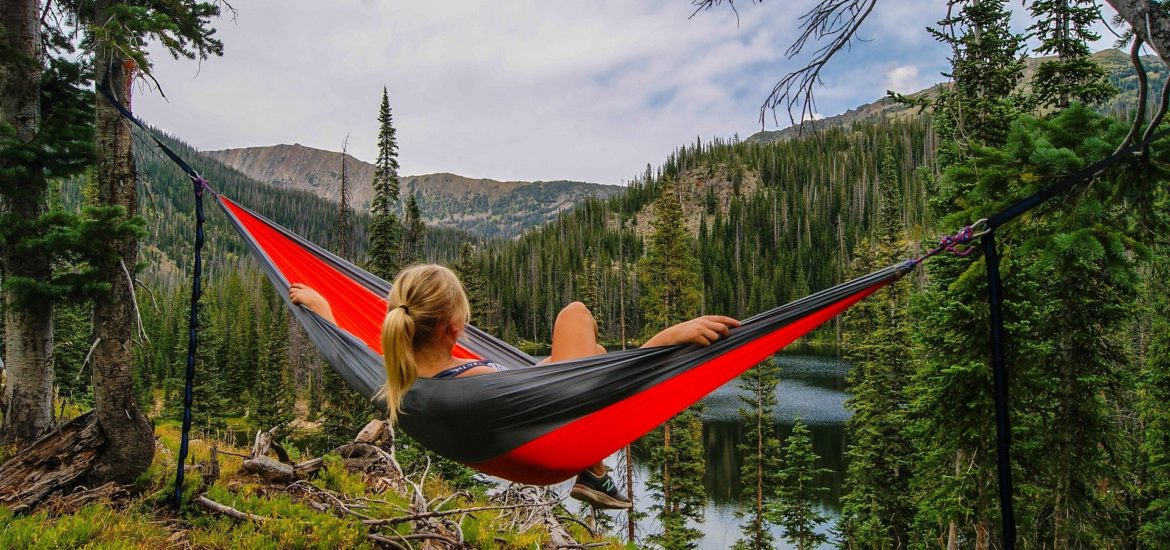 Considered by some to be a luxury camping item, hammocks can definitely elevate your camping experience; no question about it!
Most camping hammocks are small and light-weight enough to be stuffed into a pack. And, they can be set up by a single person pretty quickly, usually under 5 minutes.
Personally, I bring my Therm-a-rest Slacker hammock on all my camping adventures. It's the perfect way to relax. You can read a book, listen to nature, or just take a nap.
A hammock can make your campsite feel extra comfortable, for all to enjoy!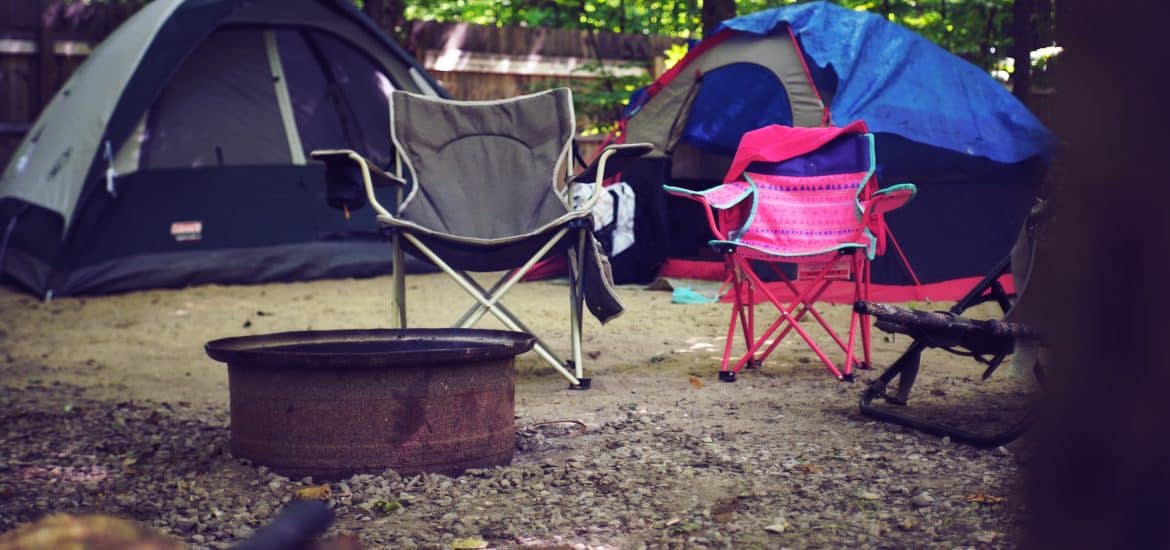 There's nothing more quintessentially camping than sitting around a campfire, roasting marshmallows or sipping hot cocoa.
And a key piece of gear to complete this picture is a camp chair!
Camp chairs come in a variety of shapes and sizes. They can be super minimalistic and stool-like, or extravagant mimicking a throne.
But whatever model you end up liking, bringing a camp chair and giving your back and legs some rest is a great way to make camping more comfortable.
Pro-tip: I prefer camp chairs with full back support that are tall enough to support my head. I bought these glamping style camp chairs. They are incredibly comfortable, and portable enough to take backcountry canoe camping, car camping, and picnicking!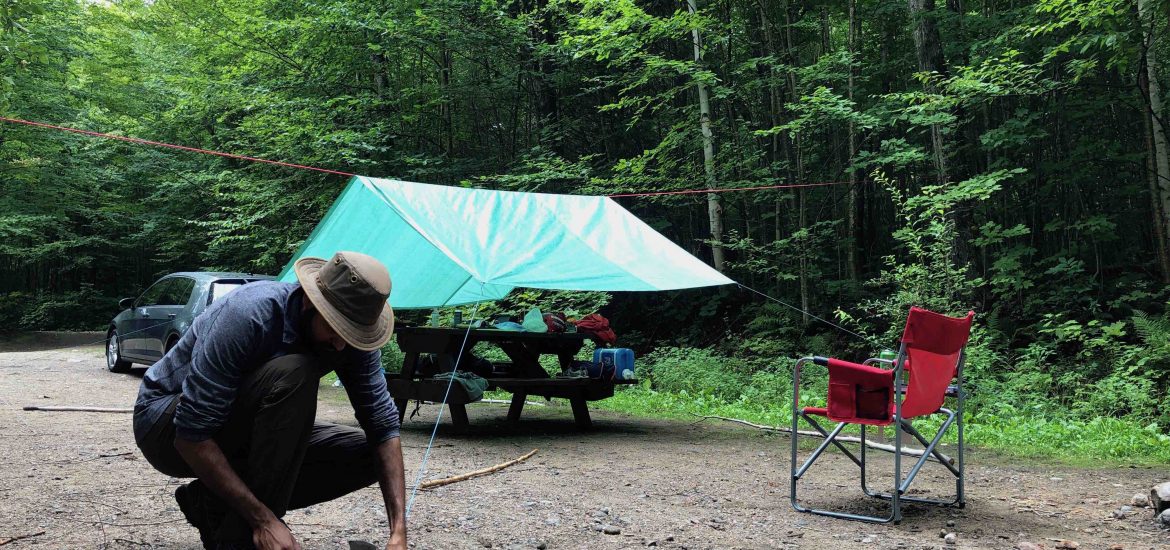 Generally, nobody likes camping in the rain. Firewood gets damp, cloths get wet, and sometimes it gets really cold.
Eventually, a rainy camping trip can seriously be a downer, but it doesn't have to be!
So, what's the solution? Well, unless you're an X-Men and can manipulate the weather (aka. Storm), you'll have to set up tarps.
Tarps are a game-changer in the rain. When set up correctly over a picnic table or a tent, they can drastically improve your situation and make camping in the rain more comfortable.
No matter the weather conditions, I always bring my trusty backcountry silicone tarp. And, if the weather starts to shift, I can quickly set it up and create a dry area for sitting, cooking, and eating.
A tarp creates an additional sheltered area, and it beats spending the whole day in a tent waiting for the rain to subside.
You can also set up a tarp above a fire-pit to keep it protected from intense rain, and store dry firewood and tinder underneath a tarp. This also helps make starting or restarting a fire a lot simpler.
Pro-tip: As mentioned above, check out my article and how-to video on How to Set Up a Tarp. I've used this method on trips with light showers as well as torrential downpours.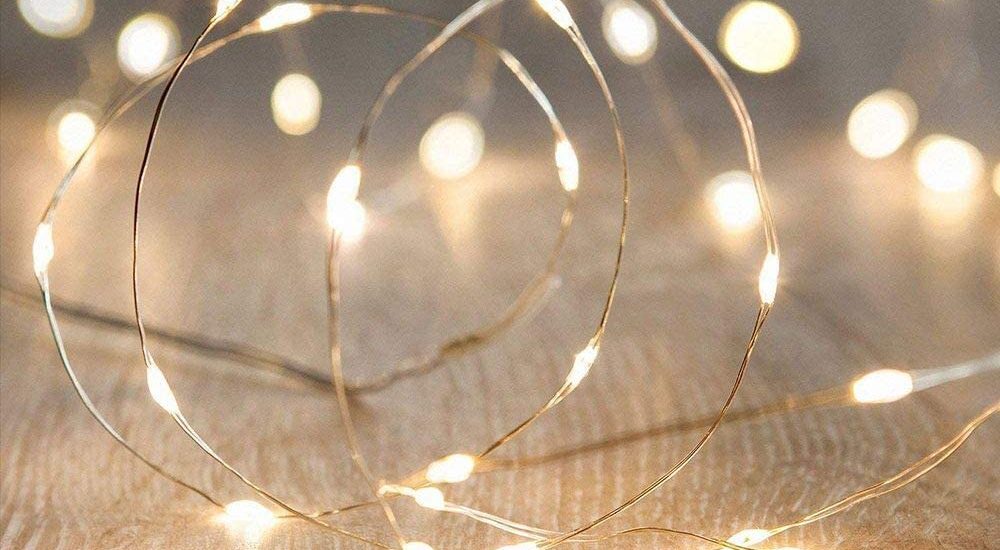 When you're home, it's easy to flip a switch and illuminate a dark room. Light can make a dark and gloomy, or even scary situation a little less daunting.
And, for kids especially, a little bit of light goes a long way…
So, for your tent and campsite, it's a great idea to bring along some extra lights and string them up.
Extra lights can help everyone better navigate around the campsite, and it makes the outdoors a little less scary and more comfortable for newbies
These LED string lights from Amazon are perfect. They can be hung from trees or strung around a tent.
Just be sure to turn them off before going bed to reduce light population for your camping neighbours.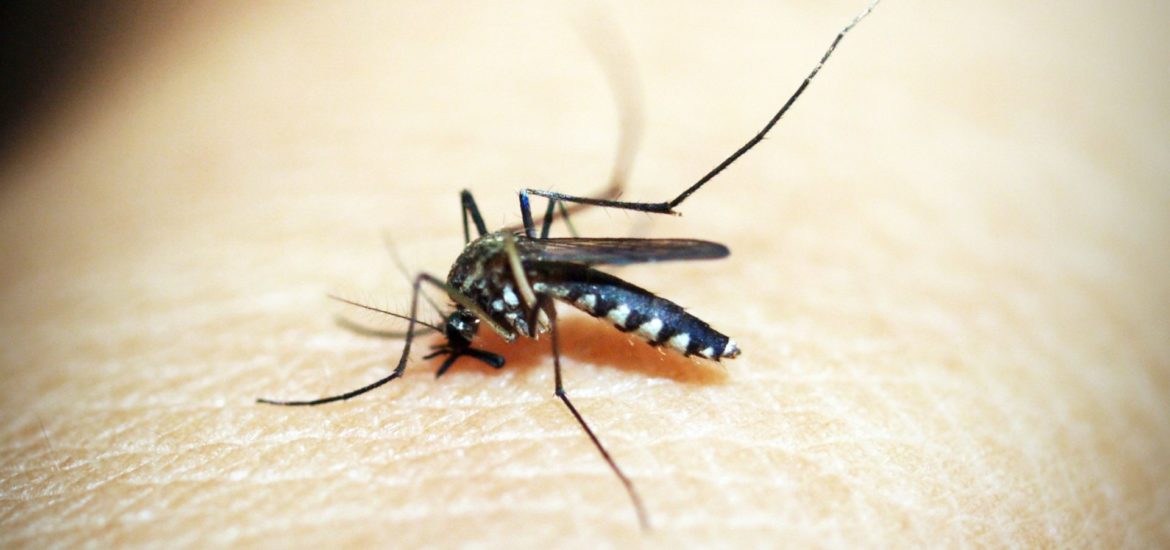 Normally, I don't mind bugs. They play an essential role in the ecosystem. Some of them are even cute and fuzzy.
But, when I get swarmed by a dozen mosquitos and black-flies while I'm trying to cook breakfast, my blood begins to boil…
Mosquitos and black flies are nasty, no question about it. And, during certain times of the year, they can be down-right impossible to deal with.
So, to maintain your sanity and to make camping during these buggy periods more comfortable, you'll need to come prepared.
This means bringing lots of mosquito spray with DEET, perhaps bringing and using face nets, or setting up a screen house to create a physical barrier from these aerial aggravators.
Recently, some fellow campers and I have started using Thermacell rechargeable mosquito repellant. It works by emitting a cloud of repellant, creating a bug free zone. We leave it running when we're huddled around the picnic table eat or fire while we're relaxing.
For the price, it offers so much peace of mind!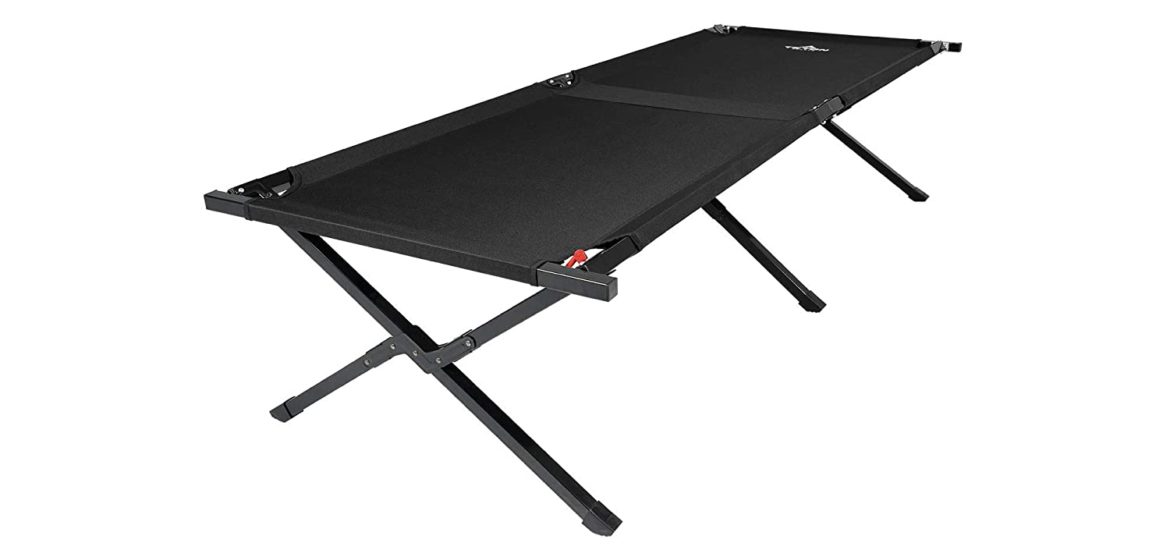 9. Use a Bed Cot / Mattress
Many would-be campers dread sleeping outdoors. Yes, sleeping in a tent can be awkward at first, but with the right gear it can be just as comfortable as sleeping at home!
Traditionally, sleeping in a tent means laying on a sleeping pad. Sleeping pads are usually made from foam or an air-filled cushion that provides insulation from the ground and support for your body.
Typically, sleeping pads aren't too thick to save weight and space when packed. When in use, they can provide anywhere from 1 to 3 inches of support.
However, for some people, a bed cot or a blow-up mattress is a much more suitable and comfortable option.
Cots and blow-up mattress are much more supportive than sleeping pads, but are better suited for car camping trips. They don't require too much effort to set up, and can make sleeping outdoors a lot more enjoyable.
Pro-tip: For bed cots, I recommend the Teton Universal Camping Cot for it's simple, yet supportive design. For blow-up mattresses, I recommend the Intex 2 person Airbed for its extra comfortable sleep-top.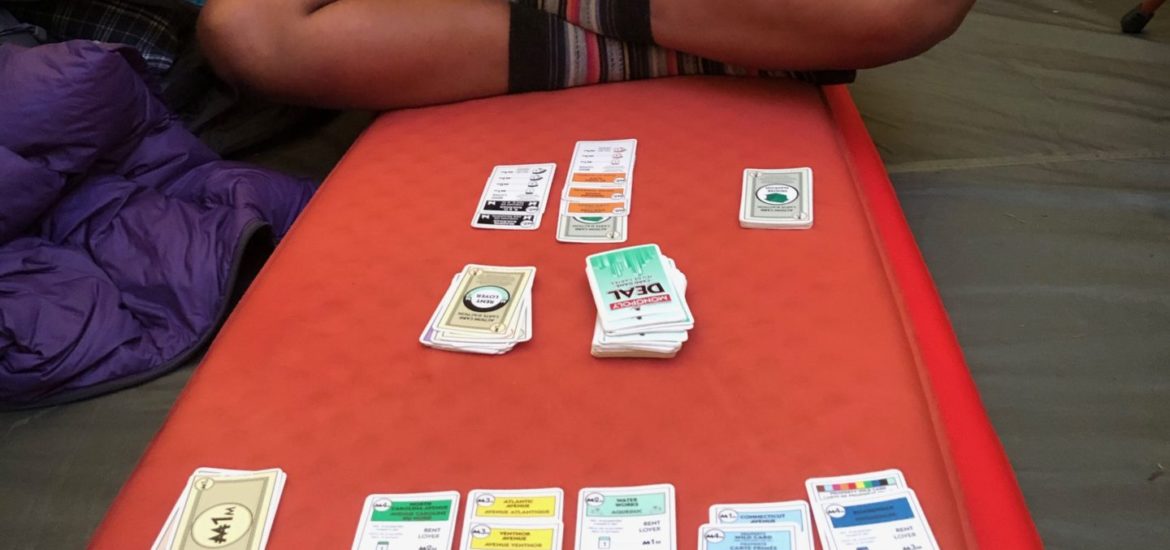 10. Bring Camp-friendly Board Games
If it's raining, or you're just looking for an easy way to help pass the time while camping, why not play a board game?
Playing board games while camping can be fun and inclusive, great for kids and adults, and a simple way to make everyone feel comfortable!
But, not all board games are suitable for camping. They need to be portable, age appropriate, with simple rules, and highly re-playable.
So, which board games are the best for camping? Well, here's a short-list of my go-to board games that are great for camping, cottages, and campervans:
This article contains affiliate links, which help support this blog at no cost to you!