As an essential piece of equipment for any camping trip, a robust knife is very important.
But, with so many shapes and sizes of knives on the market, each boasting unique features, how do you pick the best camping knife?
In this article, we'll slice through some knife basics, carve out essential things to looks for and whittle down the best knives to fulfill all of your camping needs.
Before diving straight into the best camping knives, let's start by first reviewing the general layout and design of a knife.
Knives 101
A knife consists of two basics parts: the blade and handle.
For fixed-blade knives, the metal blade runs the entire length of the knife including through the handle as a single, solid piece
For folding knives, the blade portion opens and closes along a hinge and typically retracts into the handle portion
Materials
Knife blades are typically made of out carbon steel, stainless steel or titanium, all of which are high strength and light-weight. 
Stainless steel and titanium are corrosion resistant, making them better options for more care-free use
Steel is usually more affordable than titanium
Titanium knives are typically reserved for ocean use or ultra-light camping
A high-strength stainless steel knife is a good all-around material to select for camping.
Handles
Knife handles traditionally have been made out of wood, but nowadays can be made of out durable plastic, rubber and even composite materials such as Kevlar. 
The shape and feel of the handle is very important.
When testing a knife, holding it in different positions to see how well it suits your hands.
If your palms tend to sweat or you'll be using the knife in wet conditions, consider textured or knurled handles. 
Ultimately you want something you won't mind gripping for extended periods without causing too much strain or may result in blisters.
Grinds
The grind is the shape of the knife edge and dictates how well it can cut, retain its sharpness, and its overall durability. 
Although there are many grinds for knives, typically camping knives have one of the following grinds:
Hollow Grind – Very sharp but weak edge, difficult to sharpen
Scandinavian Grind – Easy to sharpen, high strength
Convex Grind – Maintains a stronger edge, difficult to sharpen
A Scandinavian grind is widely considered the best all around knife edge. It's great for bushcraft and general camp use. 
A hollow edge is great for processing animals. A convex edge is great for finer cutting tasks like whittling wood.
Fixed Blade vs. Folding Blade
Camping knives are classified into two primary types: fixed-blade and folding-blade. But, which blade is better?
Well, let's review the strengths and weaknesses of each type.
Fixed Blade Knives
A fixed-blade knife consists of the blade metal running through the handle. 
In some knives, the metal extends through the entirety of the handle. This is known as "full tang":
The metal through the handle provides the back-bone for the handle, and results in a very strong and resilient design
Because the blade and handle are a single, solid piece, a fixed-blade knife is better suited for more rigorous tasks such as processing wood (i.e. batoning). 
There is no specific weak point such as a hinge where repeated use or damage could cause the knife to fail while in use
Fixed-blade knives require a sheath for carrying and transportation to shield their edge from damage.
Folding Blade Knives
A folding-blade knife has the ability to collapse or retract into the handle resulting in a more compact design.
The blade pivots open and closed along a hinge and is usually locked into position by a lever mechanism
Some knives lock the blade in both the open and closed positions, which may dictate its ability for single-handed operation.
Since the blade and handle are attached by a hinge, folding blades are relegated to less impactful cutting tasks.
Generally, the risk of the knife breaking or disengaging from the lever mechanism is higher so more care is needed when using folding knives.
Folding blades do not need a sheath since they retract into their handle. This design aspect makes them great as an everyday carry (EDC) knife. They can be tossed into a back-pack or back pocket which out any concern.
5 Knife Requirements for Camping
A knife's duty while camping can be broken down into 5 key categories:
1. Campsite Preparation
When prepping your campsite, you'll be cutting rope, opening packaging, and modifying or repairing equipment. 
A compact, utility style knife is best suited for this duty, whereas maintaining a razor sharp knife edge isn't important
The best knives are ultra portable, quickly accessible and allow for single-handed use.
2. Food Preparation
To prepare meals while camping, you may be slicing fruits, peeling vegetables and chopping meats. 
A fine, sharp blade and moderately sized knife is great for these tasks
Both fixed and folding blade knives are suitable, just remember to clean the blade after use to prevent unwanted corrosion and contamination.
3. Wood Processing
Most of the time while camping, you'll need to prepare plenty of firewood to enjoy a long lasting fire. 
Chopping wood requires a thicker blade with a sharp, long lasting edge
Usually fixed blade knives with a Scandinavian grind are better suited for the rigours of cutting logs or making thick curls for a fire
If you tend to carve wood while in the outdoors, a convex-edge, fixed-blade knife with a very comfortable handle is a must. The same can be said for making animal traps. 
Finer workmanship is required to cut and shape wooden pieces into an effective trap, so a mid-sized knife is best.
4. Animal Processing
Butchering game in the backcountry can become a very difficult task especially with the wrong knife in hand. 
Gutting, filleting and skinning animals requires a knife that can be easily manipulated with a sharp edge
A mid-sized knife with a convex blade would be perfectly suited to process game
Cleaning a fixed blade knife would also better compared to a folding blade knife for this kind of work.
5. Personal Protection
Knowing that you have a knife strapped to your belt or tucked away in a pocket can give you peace of mind, especially in the backcountry. 
You never know when a curious or aggressive animal will make a visit. Although you should do everything to prevent an unwanted visit, as a last resort, you can quickly pull out your knife to defend yourself in case of an attack.
A mid to long length knife used effectively has a lot of stopping power
Folding knifes are great since they can always be kept in a pocket and ready to be deployed, but a fixed bladed knife cuts down on your readiness time
And, sometimes, those few seconds are critical to protecting and preserving yourself and others.
Final Thoughts
Overall, tailor your needs with the right knife so that you're best suited to handle everything camping might toss your way. 
You might even need to carry multiple knives depending on the levels of use.
After scouring over countless reviews and recommendations, I've compiled a list of some of the best knives on the market. 
Let's take a look and see why they're so great.
Best Knives for Campsite Preparation
Small but still very capable, these handy campsite knives are compact, functional and versatile. 
Their unique designs offer great usability around a campsite for small, focused tasks
This attribute also makes them perfect everyday carry knives  
Spyderco Tenacious G-10 Plain Edge
Type: Folding Blade
Length: 3.4″ blade, 13.5″ overall
Handle: Fiberglass Composite
Sheath: Not Required, Built-in Belt Clip
Leatherman Skeletool KBX Pocket Knife
Type: Folding Blade
Length: 2.6″ blade, 6.1″ overall
Handle: Metal
Sheath: Not Required, Built-in Belt Clip
Best Knives for Food Preparation
These knives are widely considered some of the best meat carving and food prep camp knives you can get your hands on. 
The thin and light weight blades make them very nimble in-hand
Their ergonomic handles reduce user fatigue
Type: Fixed Blade
Length: 7″ blade, 12.75″ overall
Handle: Plastic
Sheath: Included, Plastic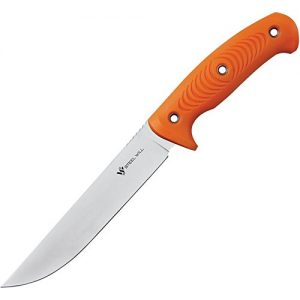 Steel Will R375-1OR Roamer
Best Knives for Wood Processing
Built to last, these knives are made to chop through an endless stream of logs and branches without hesitation. 
The thick, heavy duty blades make them durable, and the overall blade dimensions and geometry makes processing even heavily knotted wood pieces a breeze
Morakniv Bushcraft Pathfinder
Best Knives for Animal Processing
Once the hunt is over, these knives can make quick work of both small and large game. 
Sharp-edged, mid-length blades allow for accurate cuts with minimal effort
Skinning, filleting or carving is so much easier with these knives in hand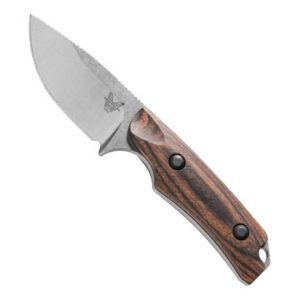 Benchmade Hidden Canyon Hunter
Best Knives for Personal Protection
In bear or cougar country, a quickly accessible knife carried on your belt can save your life during an attack. 
The extended length of the blade and ergonomic handles of these knives gives them a lot of predator stopping power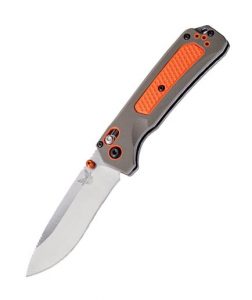 Benchmade Grizzly Ridge 15061
Type: Folding Blade
Length: 3.5″ blade, 7.8″ overall
Handle: Grivory / Versaflex
Sheath: Not Required, Built-in Belt Clip
Best Overall Camping Knives
These holy grail of knives can do it all – chop wood, process game, prep food, fix equipment and offer personal protection. 
They combine design elements from their dedicated knife counterparts and offer a combined tool ready to handle any task thrown their way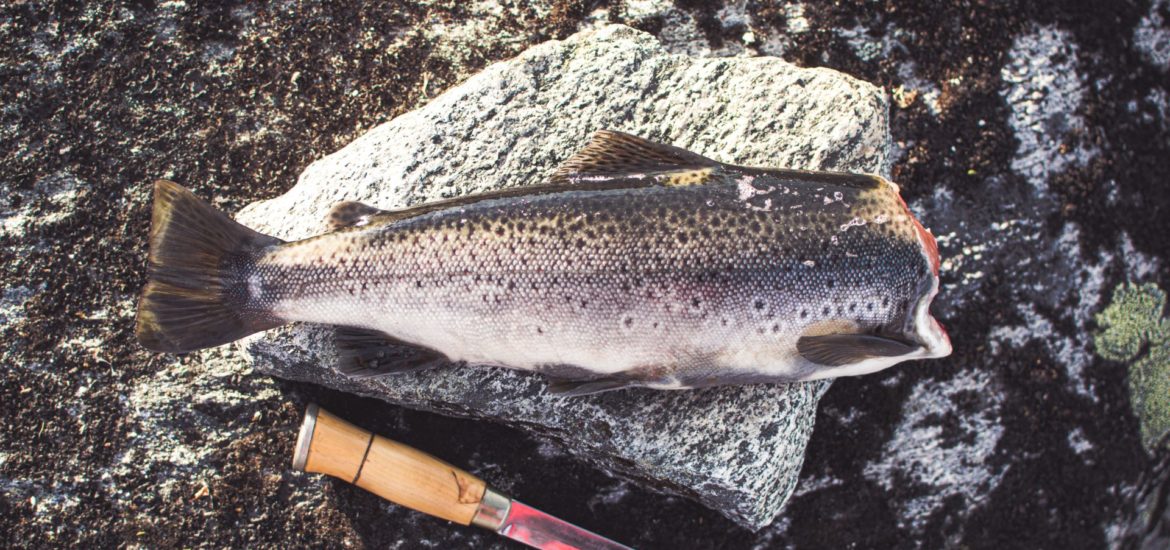 The right knife can elevate your camping experience and let you do more, more effectively.
What knife do you take camping?
What design elements are most important to you? 
Share your thoughts in the comments section below!
This article contains affiliate links, which help support this blog at no cost to you!