Whether it's backpacking in a foreign country, camping in my home province, or hiking a local trail, I always carry my trusty DJI Mavic Air drone with me.
It's the perfect light-weight, high performance drone for any outdoor adventure.
So, what makes a drone good for backpacking, camping, or hiking? And, ultimately, which drone should you carry with you?
Well, in this buyer's guide, I breakdown what I believe to be are the most important things to consider when purchasing a drone, specifically for backpacking, camping and hiking. And, why I highly recommend the DJI Mavic Air series of drones!
Article Contents:
4 Important Aspects to Consider for a Drone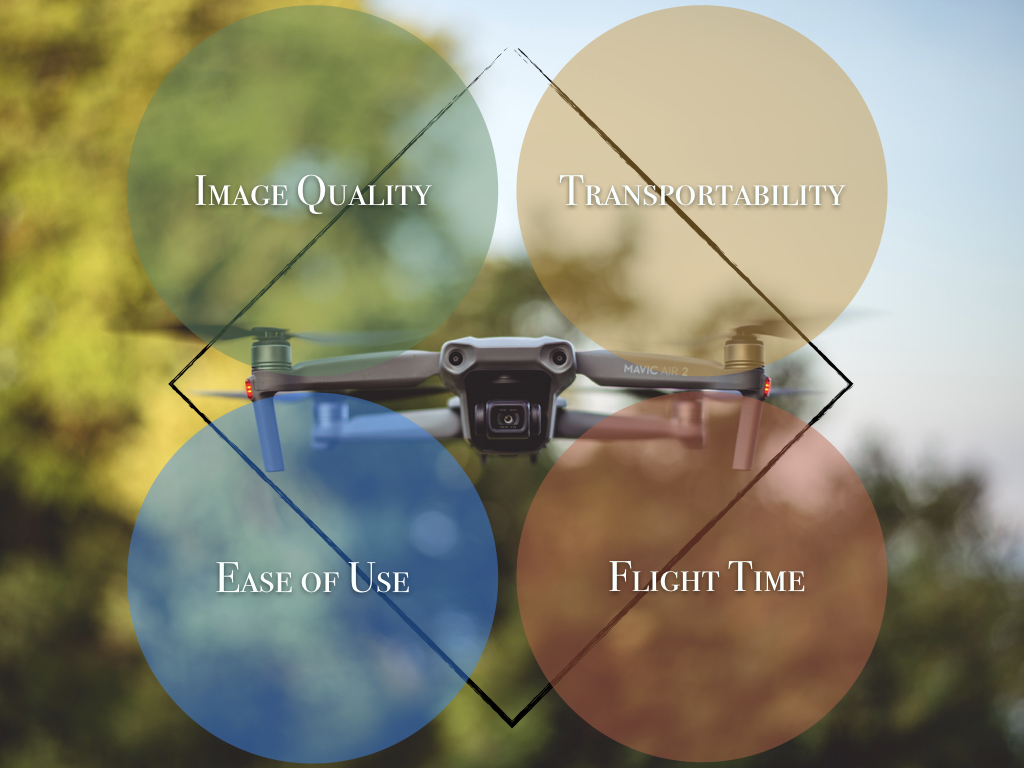 Before heading out for my next outdoor adventure, I typically pack the essentials – food, water, outdoor equipment… and my camera gear. For the past few years, my camera gear has included a drone, specifically the DJI Mavic Air.
However, when it comes to which drone YOU should bring, it's a trade-off between 4 key aspects. In my experience, it's a balance between image quality, transportability, flight time, and ease of use.
Below, I've outlined the key reasons why I choose to bring my Mavic Air with me, and why it's considered to be the best drone for outdoor enthusiasts.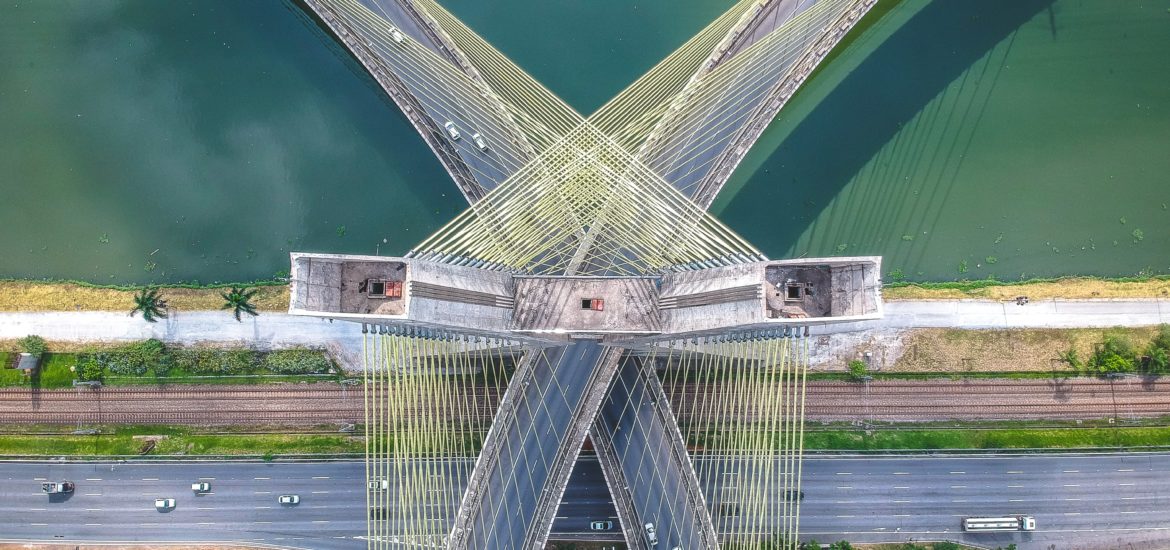 As an amateur videographer, I'm constantly capturing shots for video content (much to the shagreen of my wife).
I shoot video exclusively off of my camera phone (currently iPhone 12 Pro) and use a handheld gimbal [DJI Osmo Mobile 3] to increase image stabilization.
So, when it comes to aerial videography, I'm looking for about the same quality as my phone, if not better.
Well, drone image quality has come a long way since its inception. When they first came onto the market, third-party cameras such as GoPro's had to be attached to drones, and native camera systems were horrendous.
Now, most drones include a built-in high-resolution camera. Higher-end drones also mount the camera on a gimbal to produce shake-free video footage.
So, when purchasing a drone for, look for the following image quality related specifications:
Image Sensor Size
A larger image sensor captures more light, which in-turn creates a better image. But a larger sensor is heavier, which means an overall larger drone. 
At a minimum, you'll want a drone that includes a ½ inch sensor or larger.
High Data Rate
How fast a camera is able to save information to the memory card it critical for video resolution. 
The higher the data rate, the better and more capable a camera is able to capture video. The DJI Mavic Air, for example, is able to record video at 100 Mbps.
Range in Video Resolution
Just like a regular camera, the video resolution on most drones can be modified. So, it's best to find a drone that has a wide range of video resolutions.
Most high quality drones are able to shot 720p and 1080p at up to 120 FPS, all the way up to 4K at 30 FPS. This gives you the option to record slow-motion or high definition shots.
2 or 3-Axis Gimbal
A motorized gimbal is essentially a method by which an object, in this case a camera unit, is stabilized from external movements.
As the name implies, a motorized gimbal uses motors to counteract the rotation and vibrations of a drone while in flight. Without a gimbal, drone footage would be too shaky for use.
Lower model drones include 2-axis stabilization, whereas higher end drones include 3-axis stabilization for tilt, pan and roll compensation.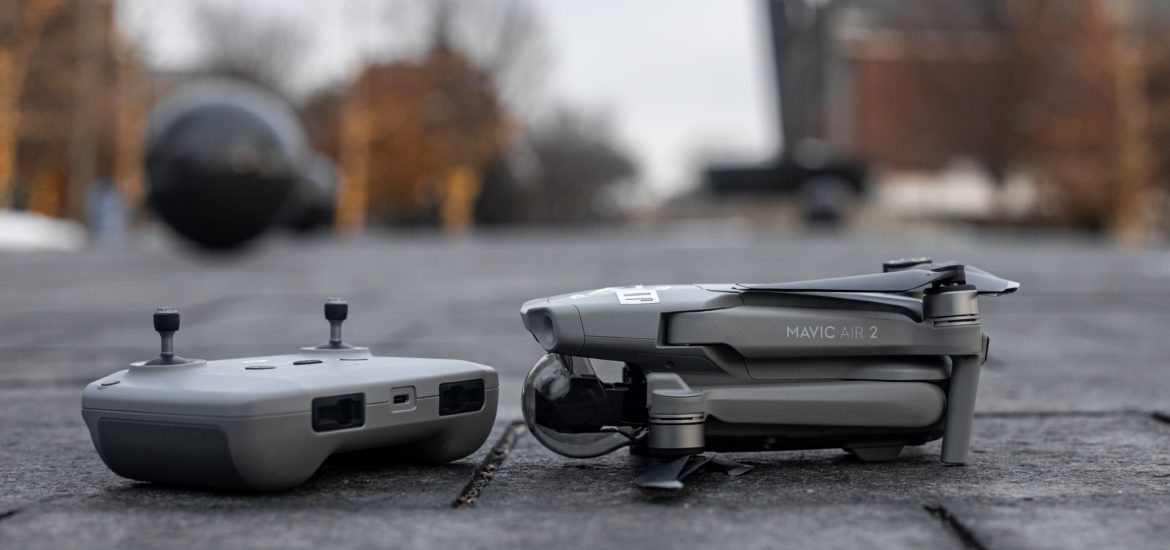 For many outdoor enthusiasts, minimizing pack weight and size is vital. Personally, my goal is to carry only essential gear so that I can efficiently hike, climb, bike or camp.
Ultimately, if a drone is too heavy and bulky to carry with you at a moments notice, chances are it's going to stay on the shelf.
Thankfully, drones come in all shapes and sizes. Some drones are designed with folding propellers and arms to cut down on overall carrying size. They are typically built from lightweight, yet high strength plastic and metal components.
Although the DJI Mavic Air isn't the lightest drone on the market, it's certainly compact compared to other options. In its carrying case, it's only 19 x 11 x 7 cm (7.5 x 4.3 x 2.8 inches).
The drone with battery and controller weigh only 716 grams (25.2 oz). Typically, I bring two additional batteries to increase the fight time and they each weigh 139 grams (4.9 oz).
3. Flight Time [Battery Life]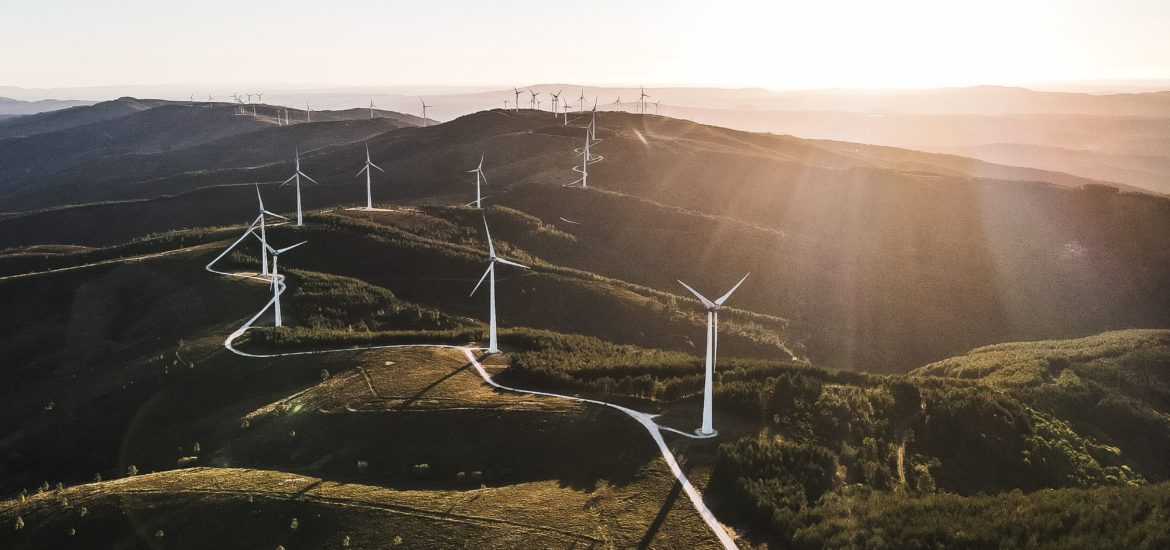 Getting the right aerial shot while camping or hiking can take time. Sometimes, a specific shot requires multiple attempts. So, having a drone with a large battery comes in handy.
A larger battery usually means a longer flight time. But, a larger battery might also mean a larger and heavier drone.
But flight time isn't only related to battery size. It also depends on the wind conditions and the speeds at which you fly. Windy conditions, couple with maximum drone speeds can and will deplete the battery faster.
The Mavic Air has a maximum flight time of around 21 minutes. However, that's in ideal conditions and does not include any buffer time for returning home and landing safely.
In my experience, a more realistic flight time is around 15 minutes. This gives you plenty of buffer time to return the drone safely, especially if you are flying against the wind or flying at a large distance.
There was a time when flying a drone was incredibly complex. The controls weren't intuitive, and you could easily crash while flying.
Fast forward just a few years and now young kids can easily operate a drone. It's become as easy as playing a video game. That's all thanks to drone manufacturers. 
Drone manufacturers like DJI have incorporated so many "smart" features into their devices, blending hardware updates with huge advances in software. These features include obstacle avoidance, intelligent tracking modes, quick shots, geo-fencing, and automatic return-to-home among others.
All these features are built-in. Couple that with a very simple and intuitive user interface and you've got a system perfectly made for both novice and advanced drone pilots.
So, picking up and using a drone has never been easier, which makes it the perfect companion for backpacking, camping, and hiking; any outdoor adventure for that matter!
Precautions for Traveling with a Drone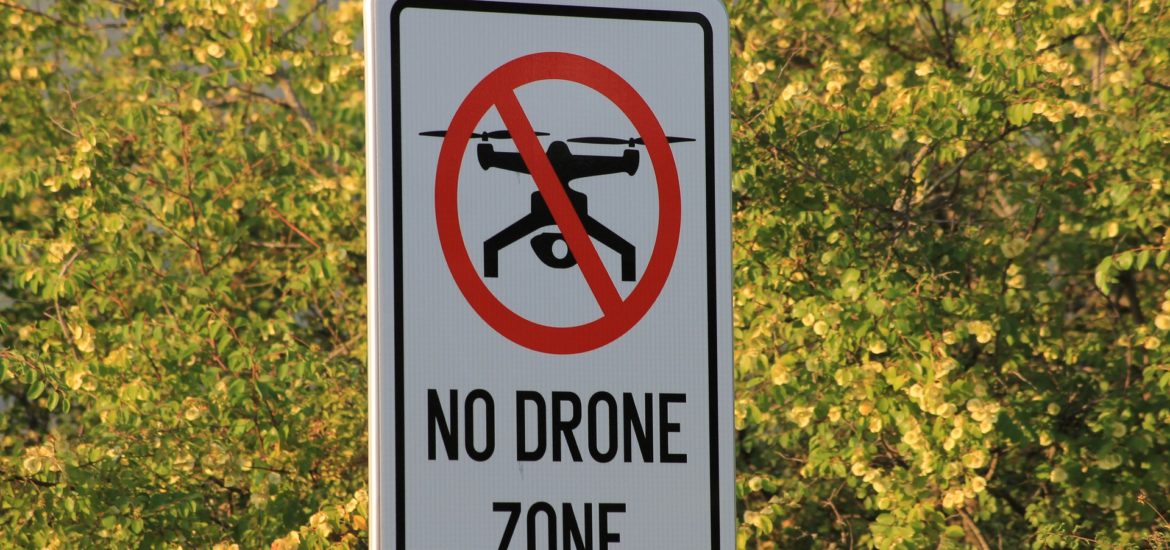 Packing and carrying your drone might be a no-brainer when it comes to local adventures. But, what happens if you want to take a drone on a plane and into a foreign country?
Well, some countries have strict drone laws, ban the import of drones, and enforce hefty fines for infractions.
Countries like Morocco, Egypt, and Nicaragua have banned the use of drones without prior approval from their respective aviation authorities. They can even confiscate drones that are brought into the country… Good luck getting it back!
Traveling with a Drone Checklist
So, before jet-setting to a new destination with your brand-spanking new drone, make sure you've:
Checked to if it's legal and permitted to bring drones into the country
Contacted or obtained the necessary permissions from aviation authorities (if required)
Registered and/or purchased a license to pilot a drone (if required)
Obtained a pilot certification (if required)

Confirmed the unrestricted and restricted airspace (such as parks, tourist spots, outdoor events, aerodromes, etc.)
Pro-tip: If you choose to bring a drone on a plane, remember that the lithium-ion batteries must be carried in carry-on baggage and not in checked baggage.
Best Drone for Backpacking, Camping & Hiking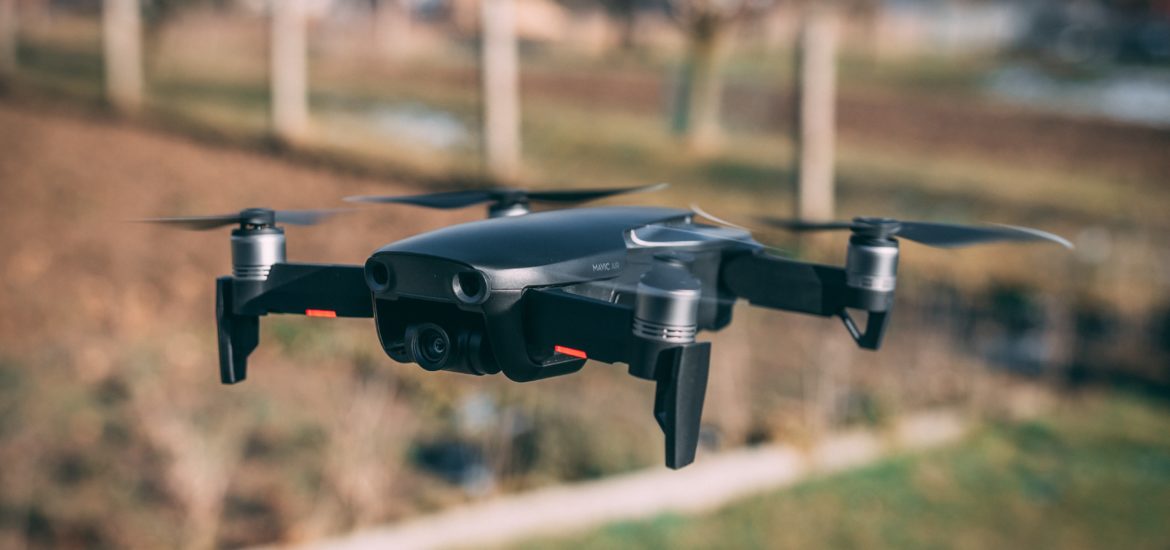 DJI Mavic Air (My First Drone)
When it comes to the best drone for backpacking, camping, and hiking, there's a clear front-runner.
The DJI Mavic Air series are considered, by many, to be the best drones for outdoor enthusiasts. They are are compact and lightweight. Coupled with the extremely easy to use interface, they dominates the skies.
I've been flying my Mavic Air (first generation) since 2018, and it hasn't failed me once. I've taken it hiking and biking in Southern Ontario, on planes across Canada, and half-way around the world to the granite beaches of Seychelles!
Realistically, the Mavic Air can remain in the air for 15 minutes. The on-board sensors and software make flying a breeze in most outdoor environments.
And getting those professional looking aerial shots is only takes a few taps of the screen. It's easy, safe and fun to use, and works like a charm in bustling metropolises as well as serene wilderness landscapes.  
Pro-tip: When it comes DJI drones, I highly recommend purchasing the Fly More Combo. Typically, it includes additional batteries, propellers, and carrying case.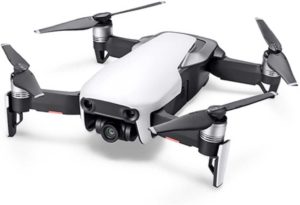 Max. Flight Time: 21 minutes
Take-off Weight: 430 grams
Image Quality: 1/2.3″ sensor, 12 MP
Max. Video Resolution: 4K 30 FPS
DJI Mavic Air 2 (My Next Drone...)
DJI as a manufacturer is constantly pushing the limits of their design teams. They are constantly innovating and adapting to changing regulations and advances in technology.
As a result, the original Mavic Air has been fully upgraded. The Mavic Air 2 is packed with incremental changes in both flight-time, image quality and processing rate, and flight mechanics.
The Mavic Air 2 is rated for a realistic flight time of about 25 minutes… Which is a massive 66% longer flight time than Mavic Air!
For anyone looking for the latest and greatest drone for backpacking, camping or hiking, look no further. The DJI Mavic Air 2 is the perfect companion for the everyday adventurer.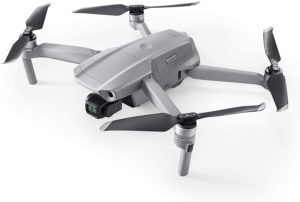 Max. Flight Time: 31 minutes
Take-off Weight: 570 grams
Image Quality: 1/2″ sensor, 48 MP
Max. Video Resolution: 4K 60 FPS
This article contains affiliate links, which help support this blog at no cost to you!