When it comes to high performance and high quality camping sleeping pads on the market, Therm-a-Rest produces some of the best.
In my experience, Therm-a-Rest sleeping pads are designed with 3 key things in mind: performance, ease of use, and value.
Personally, I've been using my Therm-a-Rest Pro-lite Plus sleeping pad for over 10 years and I absolutely love it.
So, let's dive into what makes Therm-a-Rest great, and why the Pro-lite Plus might be the perfect 3-season camping sleeping pad for you!
Article Contents:
4 Important Performance Factors of Therm-a-Rest Sleeping Pads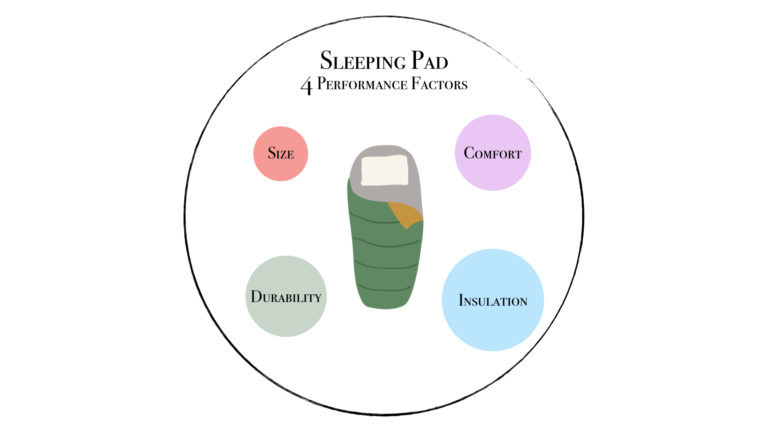 Before heading out on you next camping adventure, it's important to always remember to pack the essentials.
For a majority of trips, packing and bringing a sleeping pad is critical. A rock-solid camping sleeping pad really make the difference between having a good, restful night and an unbearable, terrible night.
So, when it comes down to which sleeping pad has the best performance for your needs, it really boils down to 4 important performance factors – (1) comfort, (2) insulation, (3) size, and (4) durability.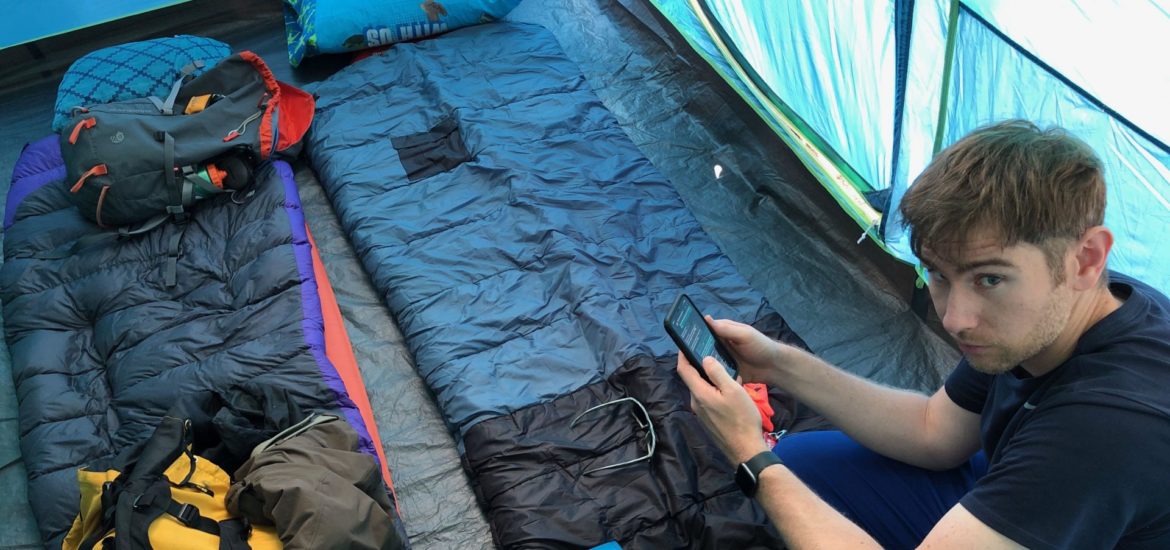 A camping sleeping pad is primarily designed to keep you up off the ground. Whether you're camping in a grassy field, or a rocky mountain side, a sleeping pad can provide some much needed cushion between your body and the tent floor.
This provides your body the support it needs to rest and sleep comfortably. And, to maximize comfort, sleeping pads usually offer a thick and wide surface to support your upper body.
The trick is to find a sleeping pad that has the optimal thickness and size!
If it starts getting too large and too thick for your body, then it's probably unnecessary. The added weight and larger dimensions, which would take up more space in your pack, isn't efficient.
Well, the Therm-a-Rest Pro-lite Plus is optimally designed with comfort in mind:
When inflated, the sleeping pad is xx mm (2 inches) thick
It's xx mm (77 inches) long and xx mm (30 inches) wide
The bottom has a non-slip coating to prevent movement on a tent floor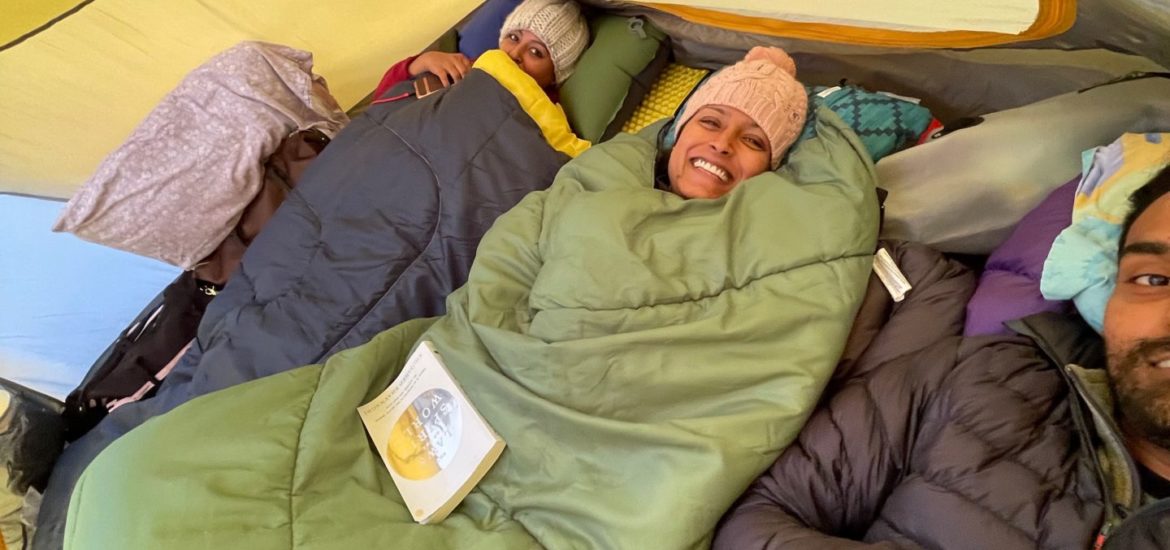 In addition to comfort, a sleeping pad also helps to insulate your body from the ground.
This can be especially important while camping during cooler months – your body can loose a lot of heat through the ground.
So, it makes sense to sleeping on a pad that can resist and prevent excessive heat loss.
The insulating performance of a sleeping pad is measured by its "R-value". The greater the R-value, the greater the insulating capacity. R-values range from 1 to 5 and above. [R-value explained]
The table below compares the R-value of some popular camping sleeping pads including the Therm-a-Rest Pro-lite Plus.
| Sleeping Pad | Insulation R-Value | Cost (USD) | Weight (kg) |
| --- | --- | --- | --- |
| | | | |
| | | | |
| | | | |
| | | | |
| | | | |
| Sea-to-Summit Comfort Plus Air | | | |
| | | | |
| | | | |
| | | | |
Camping sleeping pads come in a variety of shapes. 
Mummy-shaped pads provide maximum support for your upper body, then gradually taper to your legs which require less support
Square-shaped pads are more traditional and provide the greatest amount of surface area to support your entire body
When selecting the right sleeping pad for your body, it's important that you know your height and shoulder width. You can then match up these dimensions with available sleeping pads.
However, to save a little bit of weight for warm weather camping, you can choose a sleeping pad with a slightly shorter length than your body. That's because your feet don't necessarily need to be fully supported or insulated.
And, depending on its size and type, sleeping pad weights can vary greatly:
Typically, single person air sleeping pads are the lightest, followed by foam, and finally self-inflating.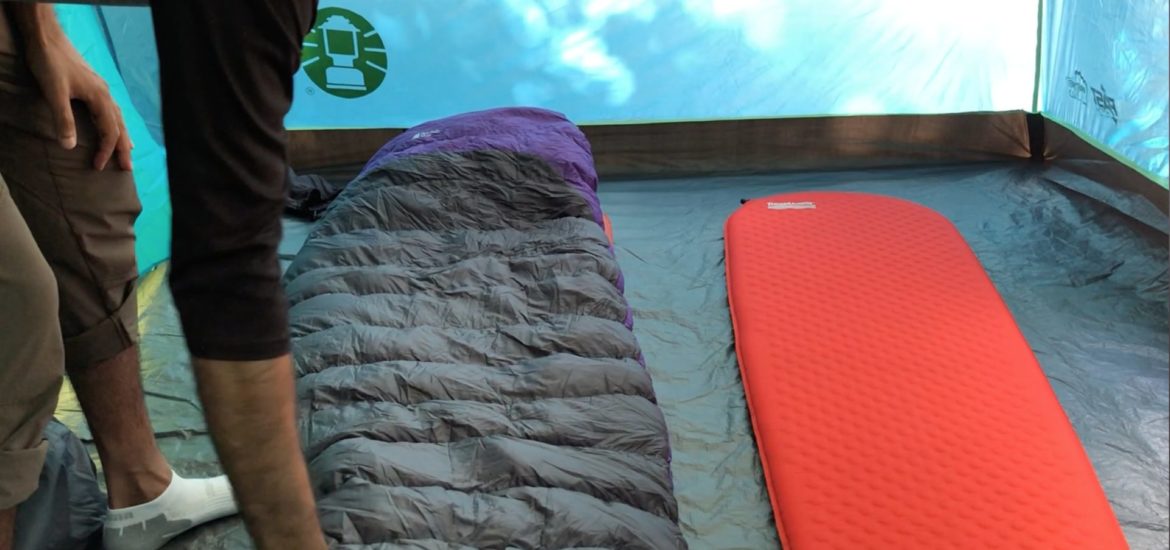 An often overlooked aspect of camping gear is the overall build quality. And, if you're like me, you want the best gear that will last a lifetime.
Well, Therm-a-Rest utilizes high performance materials such as ripstop nylon, polyester and polyurethane because those materials result in the following:
High strength and lightweight fabric
Wear resistant and durable surface
Protection against water and moisture
Therm-a-Rest also offers a 2-year limited lifetime warranty on all their products. This is a testament to their commitment to product quality and guaranteed performance.
Pro-tip: Check out my article Camping Sleeping Pads – Ultimate Buyer's Guide for even more information on the available options out there!
How to Properly Use (Inflate, Deflate & Pack) a Therm-a-Rest Sleeping Pad
Generally, camping gear that is complicated or difficult to use is just going to sit in a closet or in a garage unused forever.
But, using a Therm-a-Rest sleeping pad is dead simple. That's because it's been designed with the camper in mind.
So, whether you're getting ready for bed with your family, or resting after summiting a mountain, using a Therm-a-Rest sleeping pad correctly is straight-forward.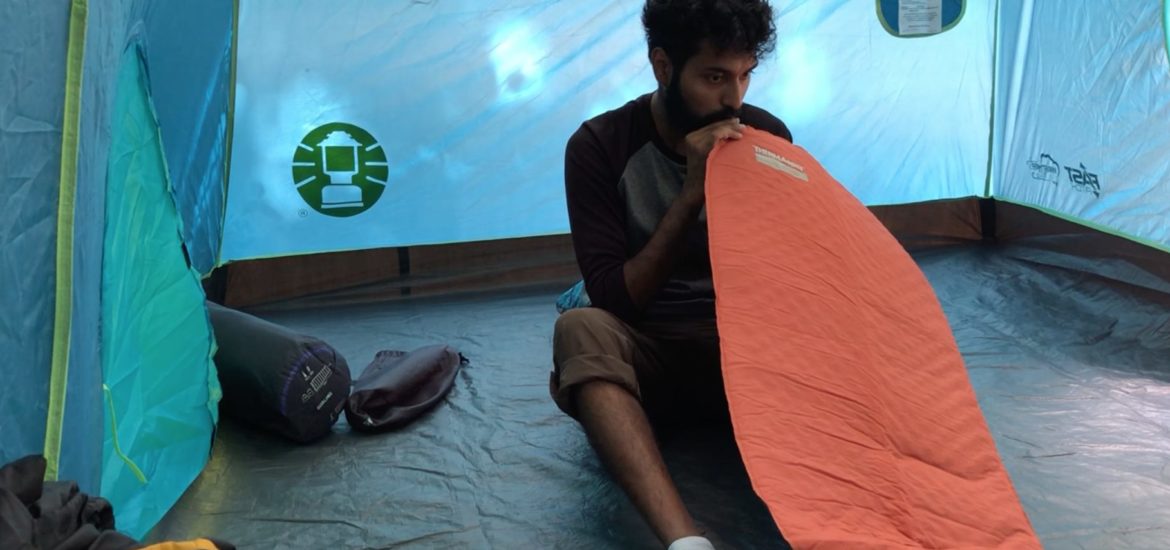 To properly inflate a sleeping pad, follow these steps:
Unravel the sleeping pad
Open the air valve
If the sleeping pad is self-inflating, let the foam inside rise and partially inflate the pad
Using your mouth, blow air into the valve by taking deep, sustained breaths
Keep adding air until the sleeping pad is sufficiently blown-up
Close the valve to lock in the air pressure
Depending on the outside air temperature, the internal pressure and firmness of the sleeping pad might change. Warmer days and cooler nights might cause the firmness to drop.
So, just monitor the firmness before sleeping and add more air as required.
To properly deflate and pack a sleeping pad, follow these steps:
Open the air valve to start releasing air
Start rolling the non valve end of the sleeping pad
Close the air valve
For self-inflating sleeping pads, fold the pad in half (long-wise), and re-roll the sleeping pad from the non valve end
Use your knees to compress the sleeping pad as you roll
Once rolled to the valve end, keep knees on pad and open valve to release remaining air
Close air valve and place sleeping pad in carrying case, if required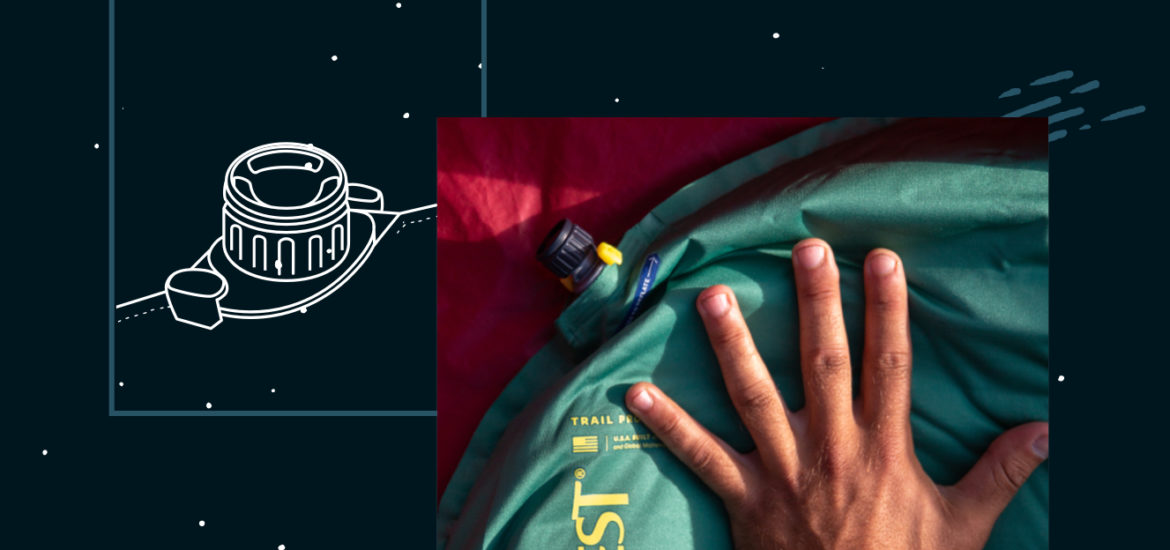 Sleeping pad air valves have improved over the past few years. Before, you had to skillfully manage the open and closed position of the valve while inflating to prevent air loss.
Now, Therm-a-Rest sleeping pads come with an improved dual-acting "WingLock™" valve for easier filling and deflating, even while wearing gloves.
For inflating, the valve allows for one-way air flow, so there's no risk of losing air when blowing.
For deflating, the valve can be fully opened to release the air through a larger opening, speeding up the entire process.
Why The Therm-a-Rest Pro-lite Plus is Great for Outdoor Enthusiasts
After 10 years of continuous use, I can unequivocally say that the Therm-a-Rest Pro-lite Plus sleeping pad is incredibly comfortable and worth every penny.
Whether it's camping in the peak of summer with family, or a solo backcountry trip in the fall, the Therm-a-Rest consistently performs well.
It keeps my body supported especially on rocky, uneven terrain which is the case for most campsites in and around the Canadian Shield.
And, it keeps me insulated from the cold ground during those cooler months or if the temperature suddenly drops.
No matter the conditions, I can rely on the Therm-a-Rest Pro-lite Plus to do its job so I can enjoy more of the outdoors.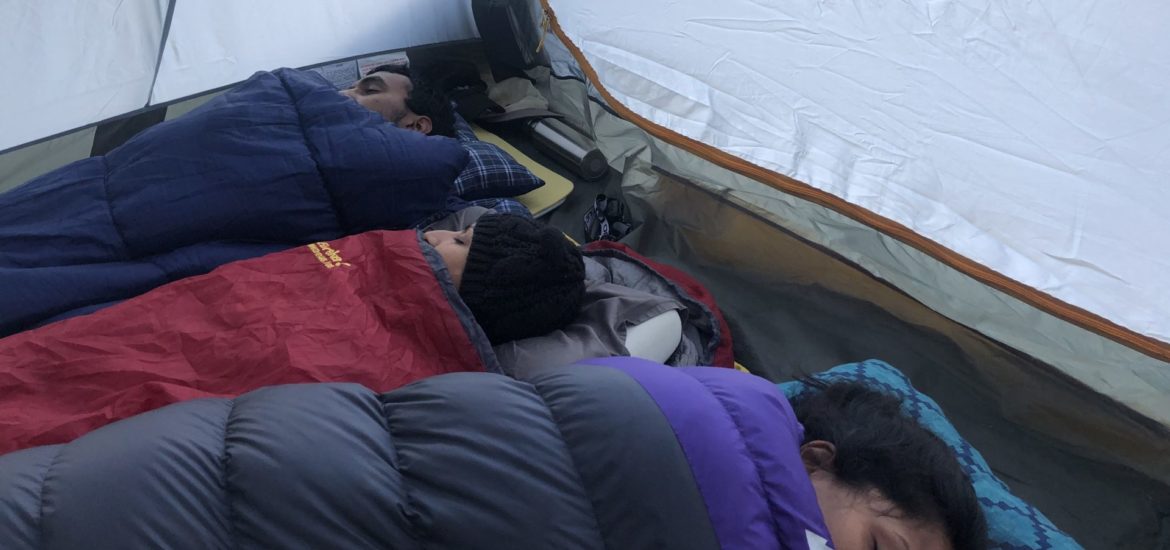 For any backpacking trip, you don't want to stress about your pack size and worry about lifting and carrying excessively heavy gear.
Well, since the Therm-a-Rest Pro-lite Plus weighs only 0.65 kg and is slightly larger than a loaf of bread, it's the perfect option for any backpacking trip.
Personally, I enjoy finding new and different ways of utilizing my camping equipment. Over the years, I've used my Therm-a-Rest sleeping pad in a variety of different ways, not just for sleeping in a tent.
For trips with my wife, we use our sleeping pads as floor mats for yoga stretches while camping.
Our sleeping pads really helps during those floor positions, and makes it a lot more comfortable on our ankles and knees.
Recently, I found that my sleeping pad can provide an air cushion for my hammock. This helps better support my body, and it provides better insulation from the outside cold air if I were to sleep in my hammock.
I also purchased a Therm-a-Rest chair conversion kit that turns my sleeping pad into a super comfortable chair I can use anywhere. It's great because I don't have to carry a dedicated chair for backcountry and backpacking trips.
The chair kit is incredibly useful, not only for camping. I bring it along on picnics in the park, to outdoor festivals, and open air concerts. It allows me to sit comfortable for extended hours, and not have to worry about straining my back!
Make-Shift Board Game Surface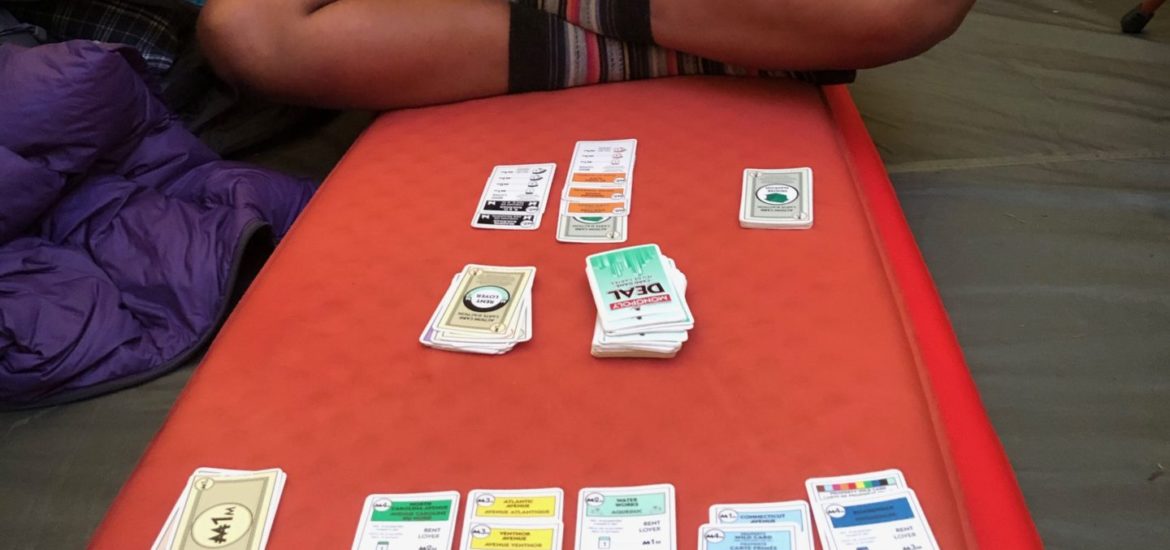 No matter where or when I camp, I make sure to bring a board game or two.
Board games help pass the time if the weather isn't cooperating, and can be a nice break at the end of the day. 
A sleeping pad makes a great large, flat playing surface for a variety of camping-friendly board games. 
Best Self-Inflating Sleeping Pad (My Favorite!)
Therm-a-Rest Pro-lite Plus
The Therm-a-Rest Pro-lite Plus is a fantastic self-inflating sleeping pad. It's build to maximize comfort while maintaining a low pack weight.
The Pro-lite Plus sleeping pad has an R-value of 3.2 which is great for three-season camping. At 16 ounces, it's still light enough for backpackers.
My wife and I both carry the Pro-lite Plus for all of our adventures. To us, it's the perfect camping sleeping pad. Even our dog Shilo loves it!
For those looking for a basic, cost-effective sleeping pad, the Therm-a-Rest Z Lite foam sleeping pad is your best bet.
The foam shape and thickness ensures a comfortable sleep, yet compact design that's extra durable. It weighs 14 ounces and has an insulating R-value of 1.7.
The Z Lite is a great option for beginner campers and individuals who are budget-conscious!
Therm-a-Rest NeoAir Xlite
The Therm-a-Rest NeoAir Xlite is the gold-standard when it comes to light-weight yet comfortable air sleeping pads.
With an R-value of 4.2, campers can sleep comfortably in most cooler environments. And, since it weighs just 8 ounces, it's the perfect choice for backpackers and backcountry campers looking for ultra-light options.
As a bonus, the NeoAir Xlite includes a stuff sack, pump sack, and repair kit! It's the perfect companion for any extreme adventure.
This article contains affiliate links, which help support this blog at no cost to you!