Packing or wearing a lightweight rain jacket or hardshell is an absolute must for many outdoor enthusiasts.
But, with so many lightweight rain jackets and hardshells available on the market, how do you choose the best one for you?
Well, in this article, I breakdown the 3 keys aspects to consider when selecting a rain jacket or hardshell. And, I outline my top 3 recommendations for camping, hiking and traveling!
So, whether it's trekking through the forests of the pacific north-west, or exploring the city in wet weather, you can stay warm and dry in the best rain jacket.
Article Contents: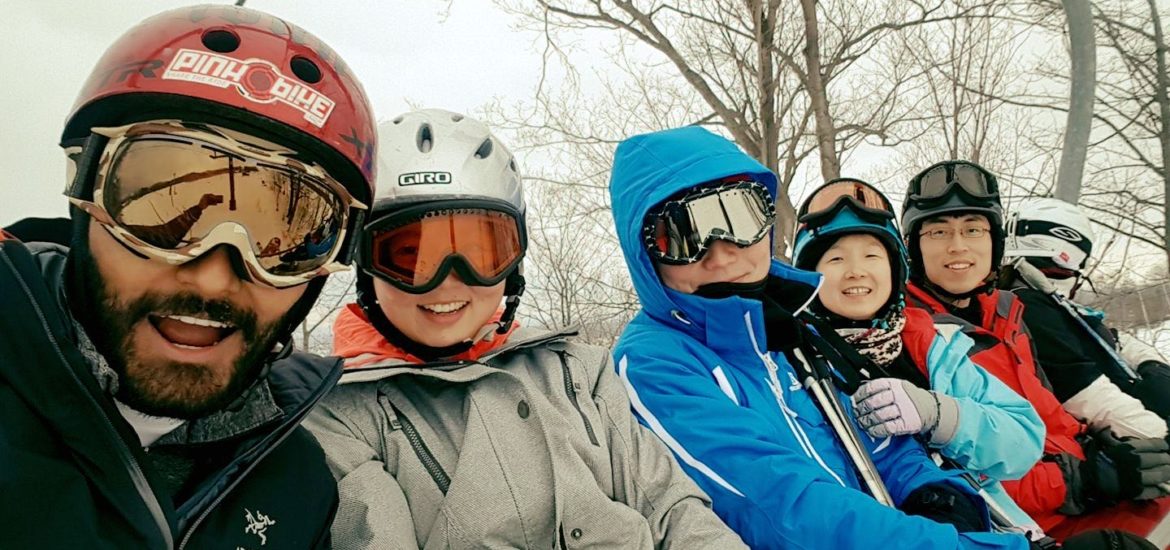 3 Important Aspects to Consider for a Lightweight Rain Jacket
Before heading out for my next adventure, I typically pack the essentials – food, water, outdoor gear, and proper clothing.
And, no matter the time of year or location, I always pack and bring a lightweight rain jacket, specifically my Arc'teryx Beta LT.
However, when it comes down to which rain jacket YOU should bring, it's a trade-off between 3 key aspects. In my experience, it's a balance between weather rating, comfort, and transportability.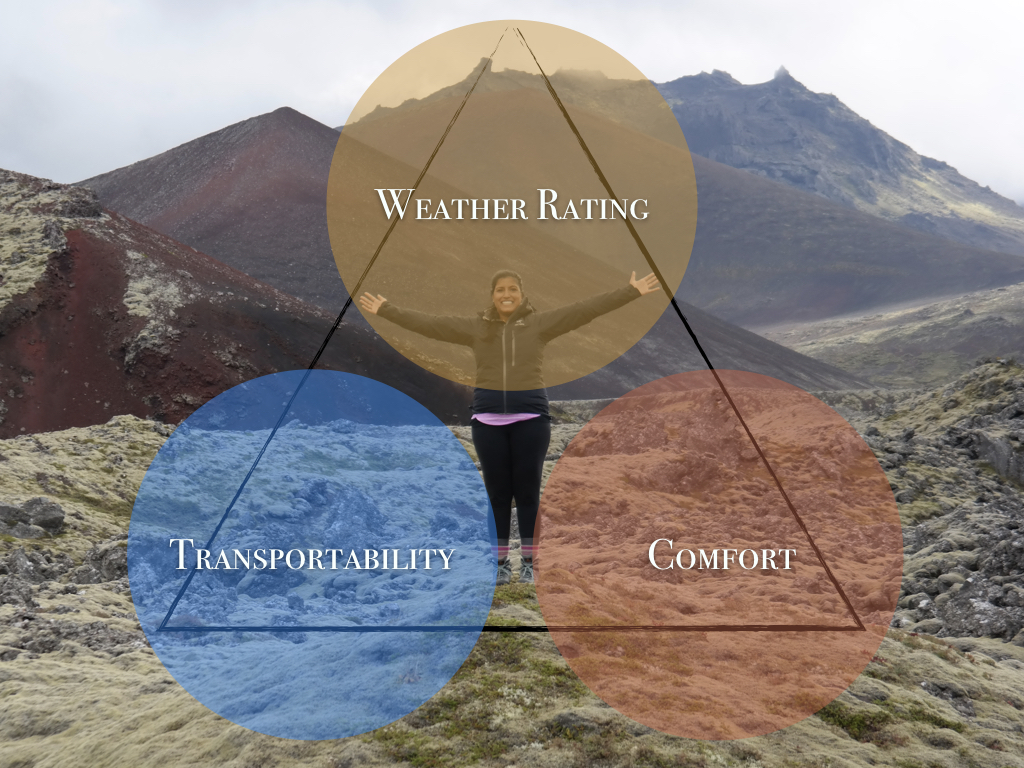 Sometimes, Mother Nature can be a fickle beast. One moment it's sunny with clear skies, and the next moment the wind picks up and it's a sudden downpour of biblical proportions.
A lightweight rain jacket's primary purpose is to protect you from these instances, keeping you dry in the most intense situations.
So, having a jacket specifically design to shield you from rain and wind it paramount. For the most part, that's entirely based on fabric.
GORE-TEX® Fabric
The best performing fabric material for wet weather is GORE-TEX®, no question about it. That's because it's both waterproof AND breathable.
In technical terms, it all boils down to how GORE-TEX® is manufactured in layers.
The primary barrier layer is made from expanded polytetraflourethylene (ePTFE), essentially a plastic, which contains microscopic pores.
These pores are so small that they are impervious to water droplets, yet large enough to let water vapour pass through.
The barrier layer is bonded to an outer later, typically made from nylon or polyester. The outer layer is coated with a durable water repellent (DWR) which keeps the outer fabric from becoming wet and reducing the overall breathability.
This sandwiched construction creates a rock-solid, high quality weatherproof material perfect for heavy rain and wind.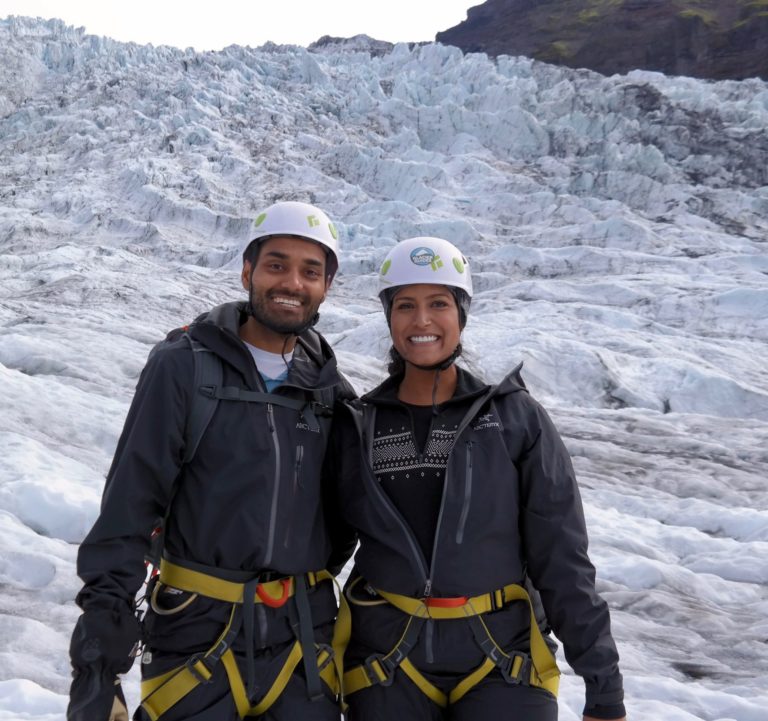 Hiking, climbing, or paddling while wearing a rain jacket for an extended period shouldn't feel like a burden.
A good lightweight rain jacket should be designed with comfort and functionality in mind.
High quality jacket manufacturers like Arc'teryx and Outdoor Research extensively test and seek feedback from outdoor professionals to maximize the comfort rating of their products.
They study and include body mobility into their designs, include various interior and exterior pockets for gear, and include adjustability options.
Here are a few tips you should consider when comparing rain jackets for comfort and functionality:
A breathable fabric like GORE-TEX® is great for moisture management.
More pockets are great, but come at a cost of weight.
Arm vents and pit-zips help expel excess heat and sweat.
Adjustable hip chords and hood straps keep your inner layers and head protected.
A larger hood allows for use with a helmet for biking, climbing, kayaking, etc.
Reflective accents are beneficial in emergency situations.
And, if you find a rain jacket that is a bargain but fits like crap, odds are you won't wear it. So, make sure it meets your comfortability criteria!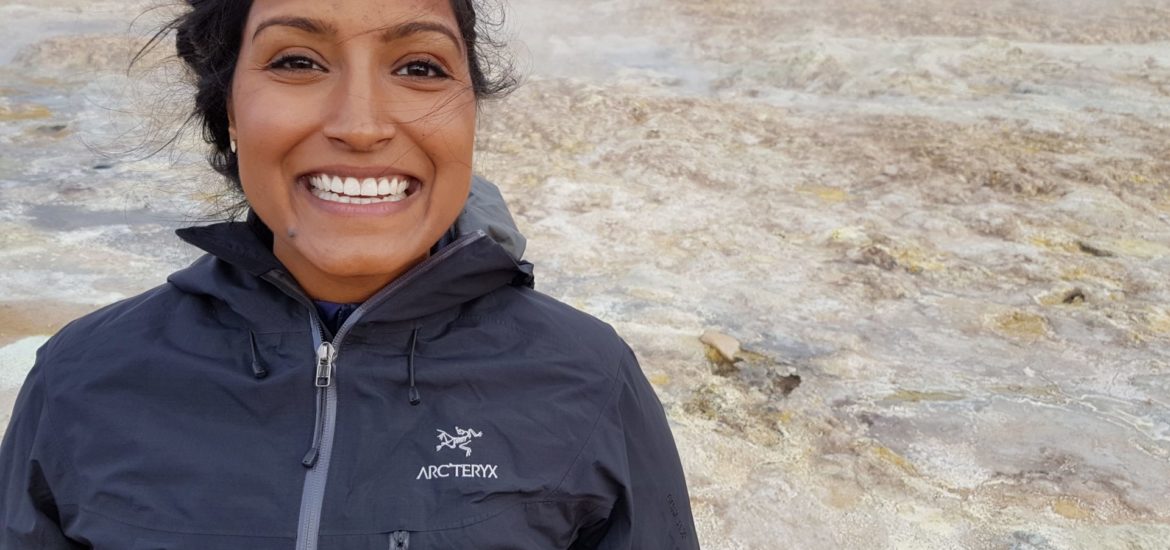 For many outdoor adventures, weight and space are precious commodities. For backpacking and traveling, a rain jacket is typically rolled up and tossed in a bag or pack.
So, it's essential that a lightweight rain jacket is truly as lightweight and compact as possible.
Now, how well a rain jacket packs is entirely dependent on its fabric. A more durable jacket is made from stronger albeit heavier fabric. So, it's a delicate balance between wet weather performance and overall weight.
Typically, lightweight rain jackets weigh between 250 to 350 grams (9 to 11 oz.). Ultra-lightweight jackets can weigh as little as 113 grams (4 oz.). Heavy duty rain jackets weigh between up to 425 grams (15 oz.) or more.
When rolled up in a cylindrical shape, a rain jacket should take up no more than 4 inches wide by 12 inches long, but can be compressed to fit in a smaller volume if needed.
3 of the Best Lightweight Rain Jackets & Hardshells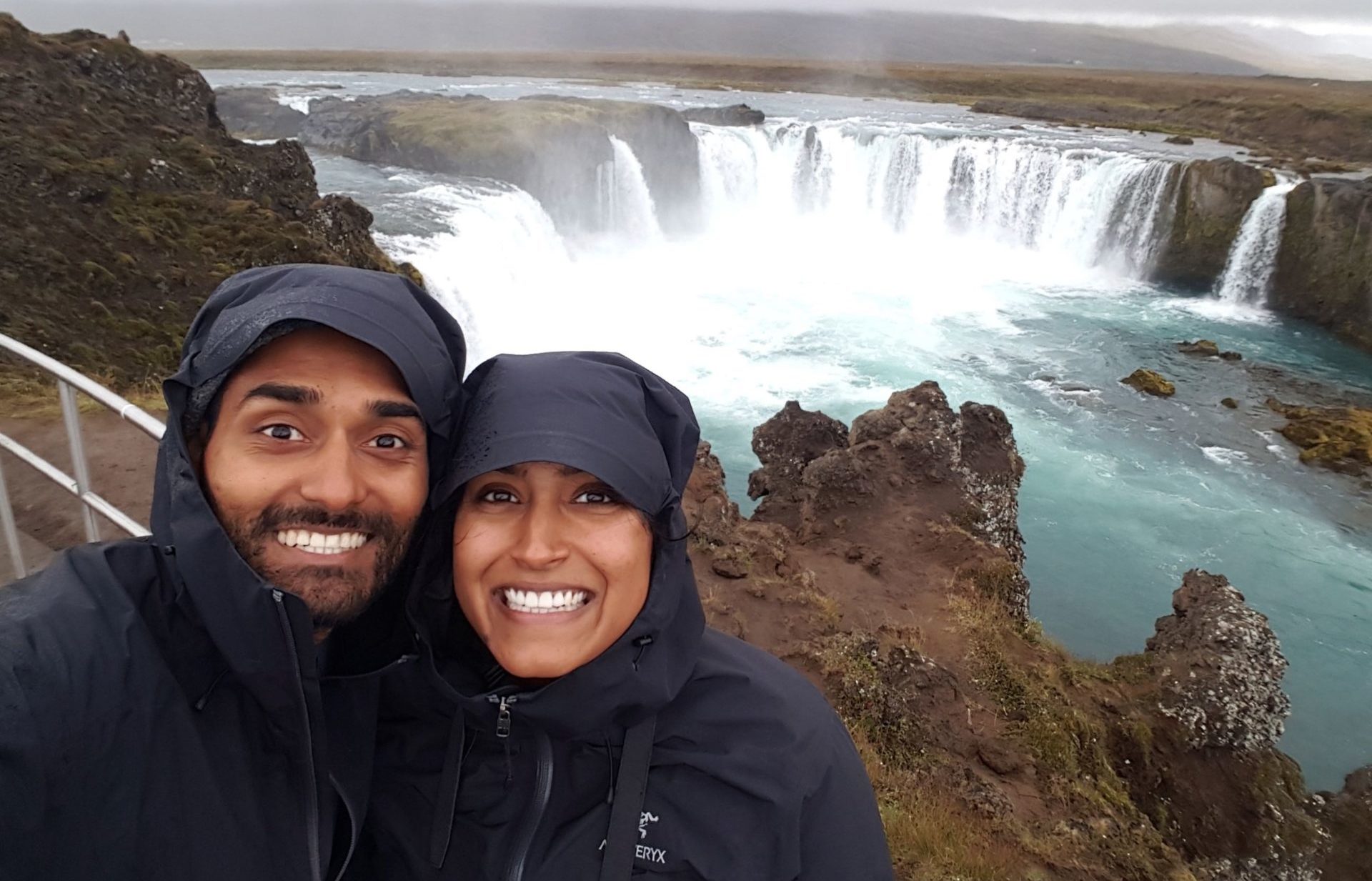 Best High Performance Rain Jacket
When it comes to the ultimate lightweight, high performance rain jacket, there's a clear front-runner.
The Arc'teryx Beta LT is perfectly constructed to handle heavy rain and wind storms at a moments notice.
In fact, my wife and I both carry and use the Beta LT as our primary hardshell for camping, hiking and traveling. It has kept us protected from all sorts of inclement weather, from light sprinklings to torrential downpours.
Besides their incredible fit and functionality of their products, Arc'teryx has a fantastic warranty program. Their limited warranty policy covers issues for the "Practical Product Lifespan". I've personally had to warranty my first rain jacket, hassle-free!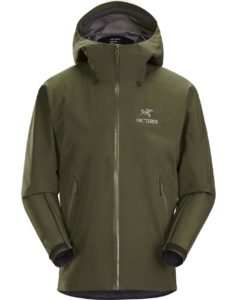 Weight: 395 g (13.9 oz.)
Waterproof Fabric: GORE-TEX®
Extras: Pit zippers, taped seams, and water resistant zippers
Best Ultra-Light Rain Jacket
The Outdoor Research Helium rain jacket is a durable yet ultra-lightweight rain jacket for any adventure seeker.
Its completely waterproof design offers maximum protection from the elements. This is made possible from the use of Pertex® technology, which is a cost-effective alternative to GORE-TEX®.
Pertex® technology relies on "capiliary" action. Essentially, water droplets are expelled along fabric fiber filaments [Reference].
The Helium is designed to be very comfortable and breathable, which makes it great for all-day activities. And, it packs down to the size of your hand!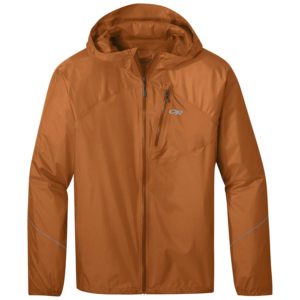 Weight: 179 g (6.3 oz.)
Waterproof Fabric: GORE-TEX®
Extras: Taped seams, chest pocket doubles as stuff sack, reflective accents
Best Budget-Friendly Lightweight Rain Jacket - Under $100
For those looking for a low cost yet fully functional rain jacket, the Marmot PreCip Eco is a great choice.
The PreCip is manufactured from NanoPro™ technology which creates a waterproof and lightweight shell that's very comfortable.
It's also made from recycled materials, which is wonderful from an environmental impact standpoint.
So, keep wind and rain at bay with this very affordable and eco-friendly lightweight rain jacket!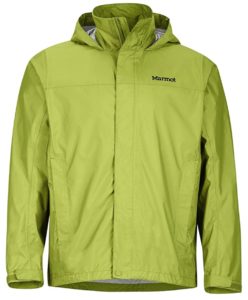 Weight: 286 g (10.1 oz.)
Waterproof Fabric: NanoPro
Extras: Taped seams, pit zippers, stuffs into own pocket
This article contains affiliate links, which help support this blog at no cost to you!