A folding saw is a compact and efficient cutting tool for all sorts of outdoor adventures – from camping and hunting, to bushcraft and survival.
But, with so many options and models to choose from, which folding saw rises above the competition? And, ultimately, which folding saw is the best for your needs?
Well, in this article, I outline my 4 tips for buying a folding saw, and which folding saw is the best for backpacking, camping, and survival!
Article Contents:
4 Key Aspects to Consider for a Folding Saw
Before heading out for your next adventure, it's critical that you pack the essentials. One item that should be included in your checklist is a saw.
However, instead of packing and hauling around a large, bulky fixed-blade saw, a folding saw is a far superior option.
But, if you don't already have a folding saw, how do you know which one to get? Well, in my experience, a great folding saw balances 4 key aspects – efficiency, transportability, ergonomics and safety.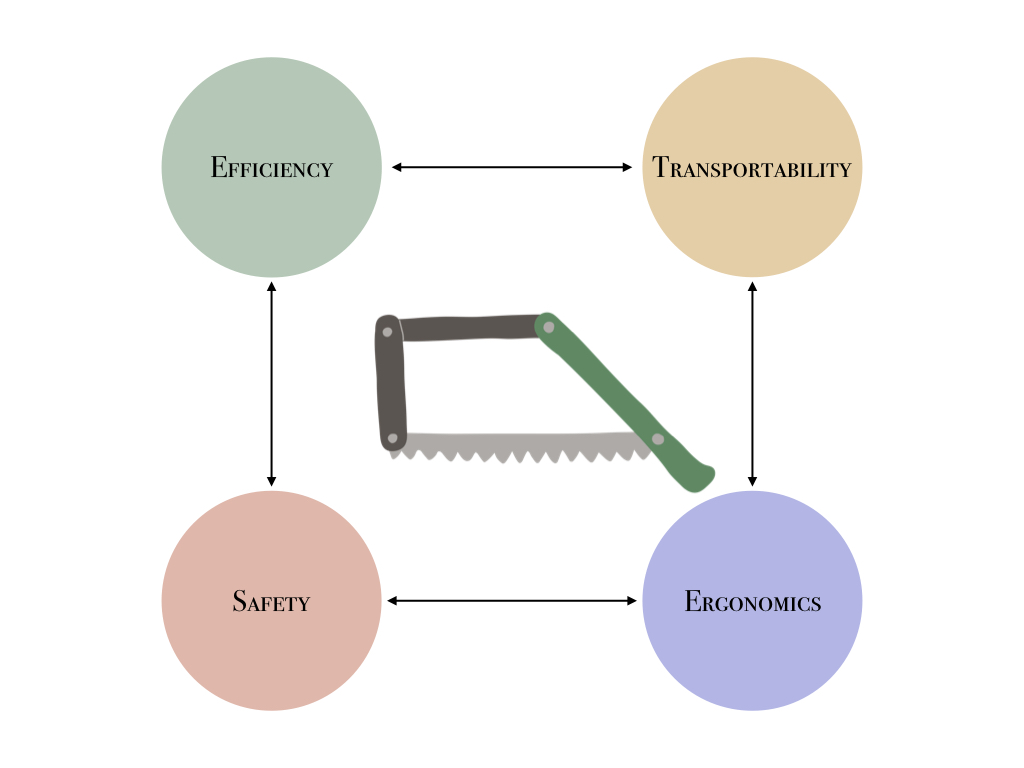 When it comes to processing wood, there's one primary reason saws are preferred over axes… efficiency!
Although an axe or hatchet is great for more "rough" wood processing, a saw is a much more refined and precise tool.
An axe requires repeated, accurate cuts. If not performed correctly, this can result in unwanted energy expenditure and excessive time consumption. And it goes without saying that time and energy in the backcountry is a precious commodity.
Blade Shape & Length
A wood saw blade is intrinsically designed to cut and remove wood on both the "forward" and "backward" stroke.
This dual action is what makes a saw very efficient. With each stroke, wood fibers are continuously cut and removed by the blade teeth.
Very little "down" force is needed since the cutting action advances the blade into the remaining wood automatically.
Once the blade creates the cutting groove, there's no need to maintain alignment. The saw will keep to the groove and cut parallel through the wood.
Depending on the size of logs you're processing, it makes sense to use a longer saw blade. A longer saw blade allows you to cut through larger diameter logs more effectively since there are more "cuts" that occur per stroke.
Pro-tip: For some bow saws, you can choose to carry multiple saw blades for different tasks including processing animals and bones. So, make sure you carry additional blades if you need to.
When camping, especially in the backcountry, a compact and lightweight backpack is very important. You don't want to be carrying around extra weight or bulky equipment if you don't need to.
A folding saw helps keep your pack weight low and pack size minimized.
Some folding saws are small enough to be stuffed inside of a pack or clipped onto your utility belt. There's no need to worry about it damaging other equipment since the blade is safety stored inside the handle.
Other larger folding saws can easily be strapped to the outside of a pack or slung on your back for transport.
To me, this is why I cherish my folding saw. It's such an easy decision for me to bring it on all my adventures because it doesn't take up much space or add much weight.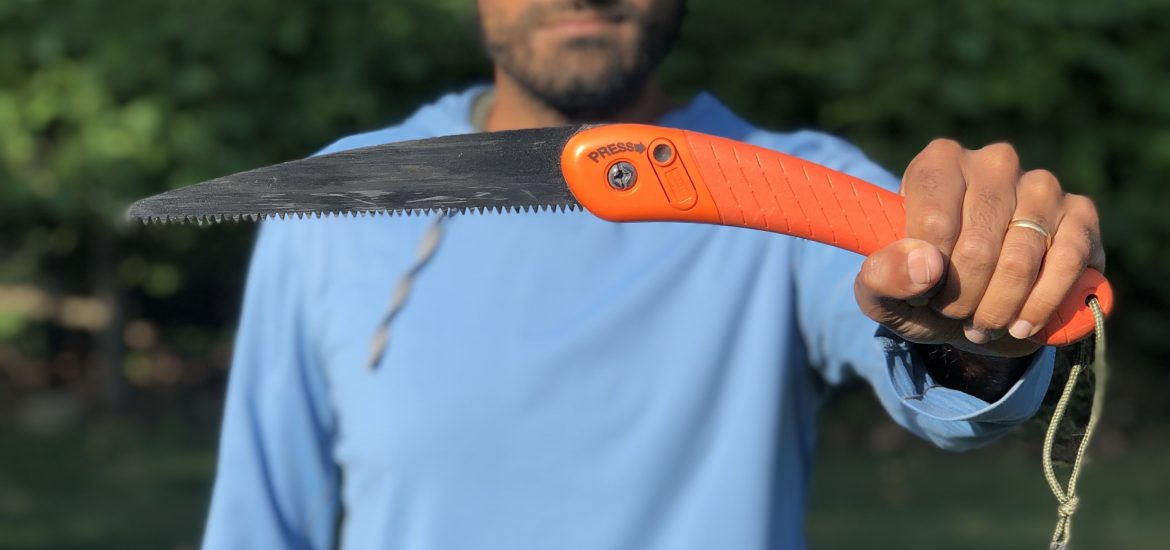 The repetitive motion of using a saw can be quite straining on the body, especially if it's poorly designed.
A poorly designed folding saw can lead to increased muscle fatigue, sore hands, and strained joints.
So, if you're planning or need to cut a large volume of wood, you'll want a folding saw that is ergonomically designed with your body in mind.
When choosing a folding saw, it's important to keep the following in mind when it comes to ergonomics:
Textured or non-slip coated handles are easier to grip, especially in wet conditions.
Rounded handle corners place less pressure on the palms
An arched handle rests more comfortably in the hand
An often overlooked aspect of a folding saw is how intrinsically safe it is. There is also essentially no learning curve to using a saw.
Anyone can pick up a folding saw and become an advanced user fairly quickly. So much so that you can easily demonstrate safe and proper sawing techniques to a child and not have to worry (too much) about their safety.
Because of the folding aspect of the saw, you can safely pack and carry a saw anywhere!
The blade, which is tucked away in the handle portion, folds out and locks into place during use. When it's not required, if can be folded back into the handle and locked in place to prevent accidental opening.
That means you can toss if into a pack or strap it to the outside and not have to worry about damaging other equipment or risk injuring yourself.
The Difference Between a Bow Saw and Folding Saw
Although there are several types of camping saws on the market bow saws and folding saws are used ubiquitously by campers and praised for their versatility and robustness.
But, what's the difference between a bow saw and a folding saw?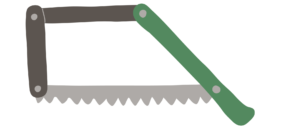 A bow saw looks and works similar to a bow. A thin, long blade is held under tension by a bow structure, which incorporates the handle.
The blade or cutting portion of a bow saw can be quite long, making it great for cutting larger diameter logs [up to 10 inches for certain bow saws].
To deploy a bow saw, the blade must be affixed to one end of the bow and then pulled under tension at the other end. Sometimes this requires using a mechanical lever to apply tension.
Although a bit cumbersome, blade tensioning can be done fairly quickly.
Bow saw blades can be replaced or exchanged at any time. For instance, you can swap out a wood cutting blade for a bone blade for processing game, if required.
Bow saws tend to be larger than folding saws, however they do not weigh much more. And some bow saws fold down into a very compact profile making them fit perfectly into a backpack.
A folding bow saw is perfect for hard-core backcountry enthusiasts due to their size, weight, and cutting ability.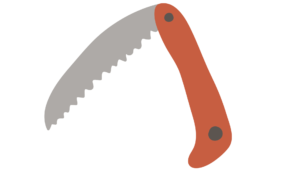 Folding saws are designed to be as compact as possible. The blade folds neatly into the handle, keeping it protected from damage as well as preventing it from damaging other equipment.
To deploy a folding saw, simply press the unlocking mechanism and fold out the blade until the blade locks into place, which takes about 2 seconds. The same action and time is required to close the saw.
This quick deployment makes using a folding saw extremely handy, especially when foraging for wood in dense forest. You can toss the saw folded into your pocket, walk through dense vegetation and then open it to cut down the next log without much effort.
For beginner and average campers, a folding camping saw is a great choice. It's also super easy to use for kids, and older adults.
What is the Best Folding Saw for Backpacking, Camping & Survival?
A lot of other websites typically have a laundry list of saws they recommend. But odds are they haven't tested any of them!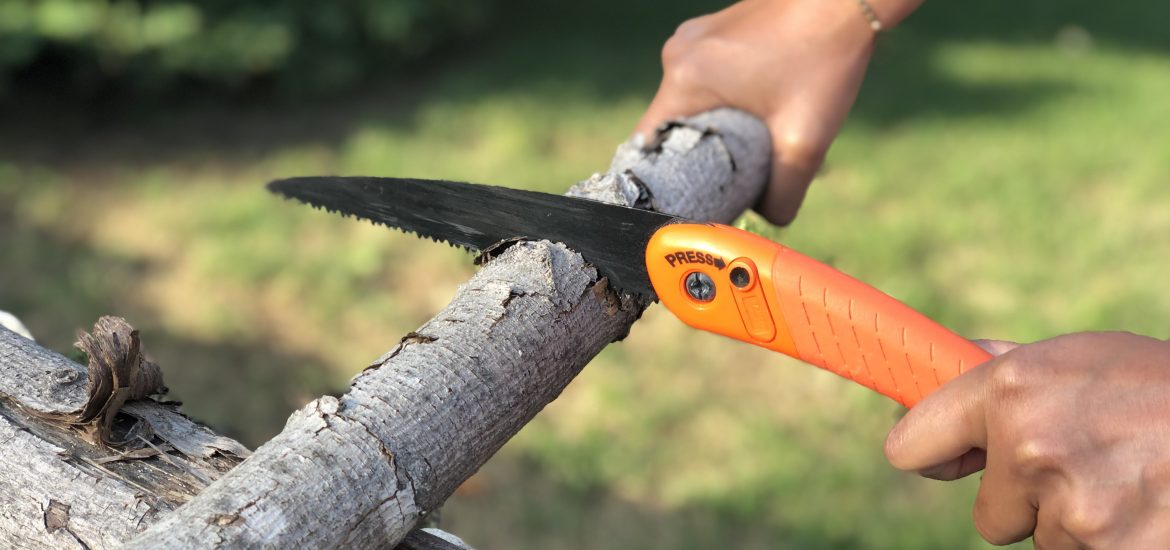 Personally, I've been using my Bahco Laplander folding saw since 2011 and it hasn't failed me – car camping and into the backcountry.
I've used it around the house to clean up fallen branches and trim overgrown tree limbs. I've let newbie campers use it will little anxiety and even let my niece give it a try. She was 7 at the time!
I would highly recommend this saw to any new or seasoned camper looking for a compact tool for processing wood. For the price, you can't beat it.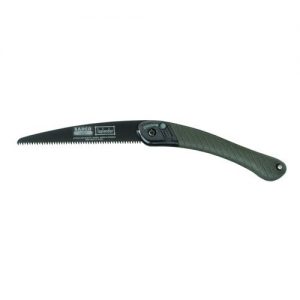 It's compact enough to slip into my pack, measuring 8 inches folded and 15.5 inches unfolded
It's super light-weight, weighing only 190 grams
The 7.5-inch blade is made from stainless steel with an anti-rust coating
The handle is made from durable plastic with a non-slip coating
I first tested the Boreal 21 folding saw and fell in love with this product at the Outdoor Adventure show in Toronto. At the time, I got to meet and interview the saw inventor himself, Graham.
Not only did Graham let me demo the product, he basically showcased the Boreal 21 in all of it's glory!
I would recommend the Boreal 21 for hard-core campers, hunters, and outdoor enthusiasts.
It's the perfect tool to increase your productivity while in the woods!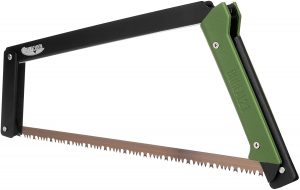 It folds completely into itself making it extremely compact and safe to carry
It deploys in under 10 seconds and feels completely solid in the hand
The large, 21-inch cutting surface makes getting through large diameter logs easy
You can change the blade from a wood blade to a bone blade quickly and easily
This article contains affiliate links, which help support this blog at no cost to you!