Camping in a large group is a great way to spend quality time with family and friends – not just partying and dining but also relaxing outdoors!
But, taking charge of a camping trip for a big group isn't easy, especially if you haven't organized one before. That's why we are here to help you!
My wife and I have organized many group camping trips. And over the years, we've painstakingly learned how to plan the best group camping trip.
So, avoid common beginner camping mistakes, following these 9 group camping tips, and pull off a killer camping trip. Let's get into it!
1. Check the Maximum Capacity of Each Campsite
Once you have an initial camper headcount, the first step would be to find a campground or campsite. The last thing you want is to squeeze into a spot that isn't large enough for your group.
It's ultra important to research on the maximum occupancy that each campsite can accommodate to figure out which site best suits your group.
Ideally, you should book "group campsites" in campgrounds as they are a lot larger, to accommodate more tents, and typically also come with ample parking spots.
Also, always confirm how many cars can be parked within each site. If the vehicle count of your group exceeds the limit, you all might have to park some vehicles outside the campsite to avoid overcrowding.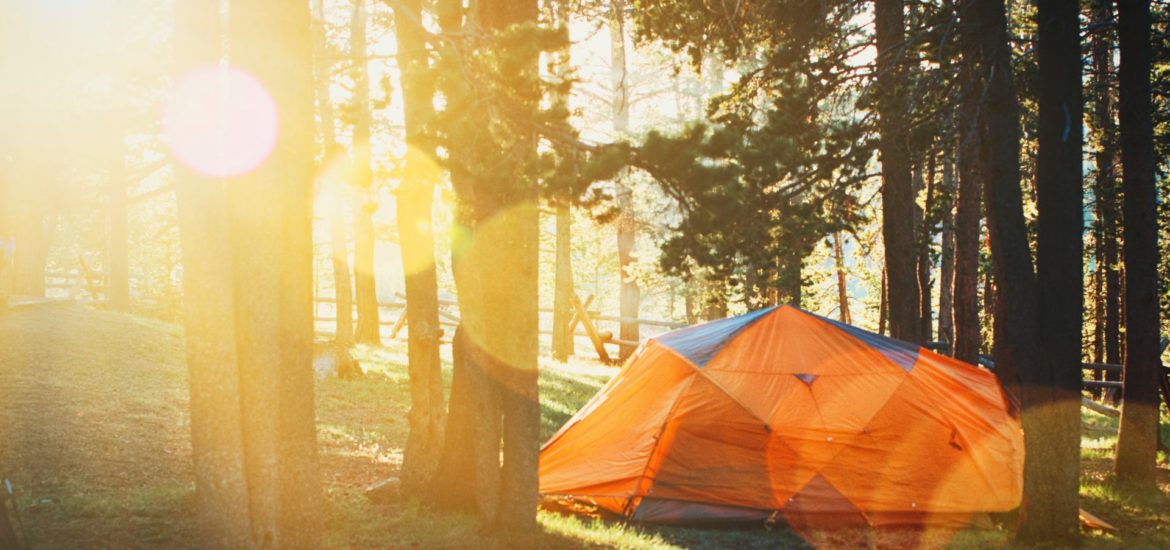 2. Campsite Setup and Takedown Time is a Lot Longer
When there's more people camping, there's bound to be more work that needs to be completed.
And when camping with a large group, it take's significantly more of time to prepare a campsite, even with a lot of helping hands.
So, a key group camping tip would be to arrive as early as possible and get started preparing your campsite immediately. Whether that's erecting tents, hanging tarps for rain or shade, setting up the kitchen and eating areas, or starting a campfire.
There are so many camping related tasks. The more time you give yourself to complete them, the more likely you are to do it properly and stress-free, especially when camping in a large group!
You seriously want to avoid having to do these tasks in the dark.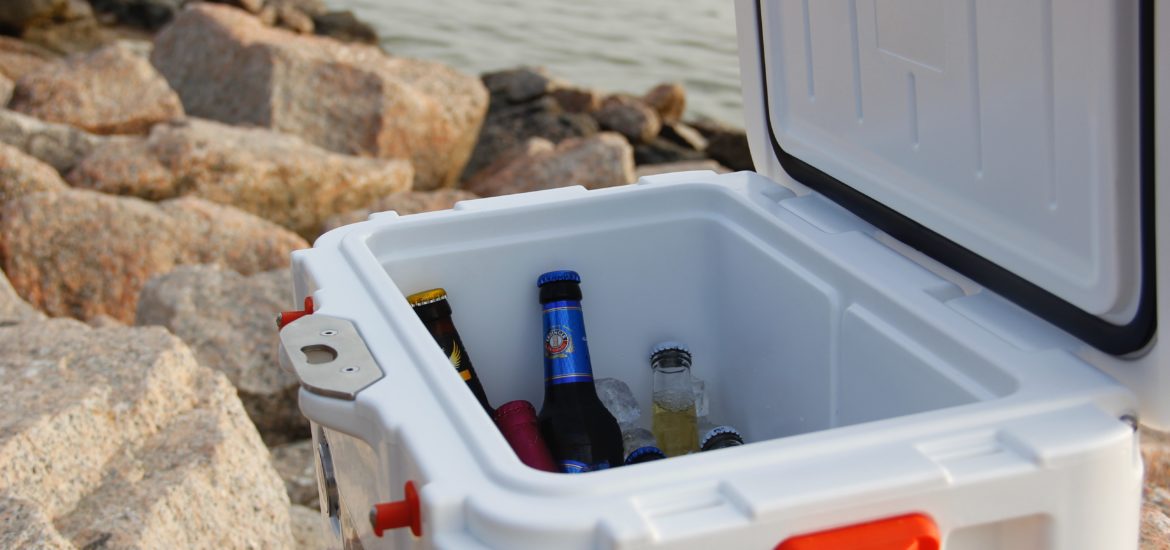 3. Create a Combined Meal Plan
Without a group camping meal plan, you will be fussing about what to prepare each day or you might even run out of food faster!
When you create a group camping food plan, and properly account for the number campers and number of meals, you get a clear picture of how much food is actually required for your trip.
A food plan ensures you bring enough food, and helps you keep track of what you have and what you have left.
It's up to you and your group to decide on what delicious and nutritious meals to eat while camping, before leaving.
So, using your meal plan, prepare a shopping list based on the meals to stock up on the necessary ingredients. Each organized meal will keep your camping group well fed and energized!
Pro-tip: A group camping meal plan can highlight what items you can buy in bulk. Bulk items are typically cheaper, so this can cut down the cost of your trip!
4. Create a Common Camping Equipment Checklist
While everyone needs to bring clothes and underwear for themselves, it's not the same case for butane camp stoves, pots and pans, or tarps. Common camping equipment can be shared and used by everyone – like tents, saws, pots and pans, medical kits, and more.
There's no better way to prepare for a group camping trip than by creating an equipment checklist everyone can reference. This way you can remember to bring everything you need, and you won't forget any important things behind.
So, begin by creating a checklist of common camping equipment, including the quantity required. I find that creating a Google spreadsheet table and sharing it with everyone is the best method.
People who have the camping gear can volunteer to bring them. You can easily see what's included, and discuss buying or renting any missing equipment.
Pro-tip: Bring family-sized tents that can accommodate a lot more people instead of bringing lots of individual tents. It'll reduce the overall footprint at your campsite, as well as free-up some space in your vehicle.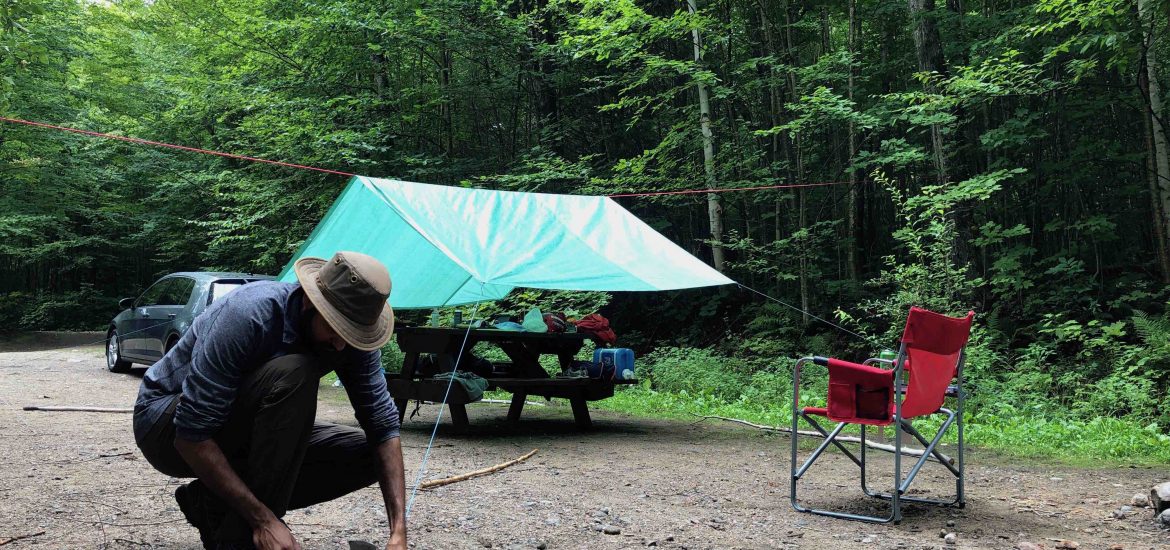 A lot of would-be campers are afraid of bad weather while camping. But a little rain shouldn't put a downer on your group camping trip.
So, what's the solution? Well, since you can't tame Mother Nature, you can shield yourself from her more "intense" moments…
The key is to bring enough tarps so that you can make a sheltered space for people to socialize and have fun despite Mother Nature's changing moods.
A tarp set up for rain or shade provides an area for everyone to enjoy meals together, play games, and relax instead of cramped inside of tents.
Tarps are super versatile and a must-have for every camping trip. They don't take up a lot of space, so take as many as required, especially when group camping.
6. Delegate and Share Campsite Responsibilities
Delegation is super important to ensure everyone participates equally on your group camping trip! Even if your group contains pro chefs, or outdoor survivalists, burdening them with all the cooking and campsite tasks isn't fair.
So, whether it's cooking, fire-making, or water gathering, everyone should take turns and do it collectively. Remember, camping is a great opportunity to build new skills and learning new things. Give kids responsibilities, and allow others to take on leadership roles or try things out of their comfort zone!
If you have a very large group, it's a good idea to prepare a roster and divvy up the responsibilities and tasks beforehand. Realistically, this actually helps avoid a lot of misunderstandings. You would be surprised as to how smooth things go when you plan out this seemingly minor aspect. You can thank me later.
7. Manage Noise and Garbage for Large Groups
While making a lot of noise might seem inevitable especially with a rambunctious group of campers, it's vital to be mindful of your surroundings and keep noise to a minimum.
Respect Quiet Hours
Excessive noise can disrupt animal species that live in the environment around you, such as birds and ground dwelling mammals. At the same time, it can also be a nuisance to other campers who are looking for peace and quiet while camping.
Most campgrounds have rules on quiet hours at night. Make sure you inform the group beforehand of such noise restrictions and respect quiet times. I've seen groups being kicked out of campgrounds for partying a little to late into the night…
Don't be those people!
Clear Garbage Frequently
Managing waste disposal is equally important. If you let garbage pile up at your campsite and wait until the end to dispose of it, it's going to be a huge mess and attract a lot of bugs and insects.
Follow "Leave No Trace" practices by ensuring you keep your campsite clean at all times. When everyone does their share by collecting and disposing of garbage properly, in separate bags for recycling if available, the task becomes a whole lot easier!
Keeping a large group entertained can seem a bit overwhelming, but not if you plan ahead!
Think of camping activities that would bring everyone together – like playing board games, dancing, swimming, hiking, or planning potluck meals.
Some classic group camping games include scavenger hunts, charades, and geocaching. Don't forget to bring your guitar if you're planning on having sing-alongs, and bring proper footwear for hiking!
If your campsite is located near a river or lake, the group can go for a dip, or also take part in water sports (if they are permitted, of course).
Pro-tip: Pre-book specialty equipment like kayaks, canoes, and stand-up paddle boards. You might be able to negotiate to a discount when you book for the entire group!
9. Use a Cost Sharing App
Managing the cost of a group camping trip can be a bit daunting, especially if you're on a tight budget. And the last thing you want is having a fun-filled camping adventure turn into an awkward trip just because people haven't paid their fair share of the costs?
The solution is to keep track of who paid for what and who owes who. Thankfully, there's an app for that!
We use a cost-splitting app like Splitwise (it's free) to keep track of all the payments and expenses incurred during a camping trip. The app lets you add each individual, and everyone can start adding their share of the costs.
In the end, the app calculates the final amount and sends a notification reminding everyone how much they owe each other. It really takes out the stress of asking for money.
This article contains affiliate links, which help support this blog at no cost to you!