A tarp is an essential piece of equipment required for most camping trips, but how much does a camping tarp actually cost and weigh?
From a cost perspective, a polyethylene tarp costs on average $2 USD per square meter. Nylon and polyester tarps with a waterproof coating costs on average $14 USD per square meter.
From a weight perspective, an inexpensive polyethylene tarp weighs on average 102 grams per square meter. A higher strength nylon or polyester tarp with a waterproof coating weighs on average 91 grams per square meter.
Let's explore which tarp is better for your next camping trip from a weight, cost, and performance perspective.
Article Contents:
What's Included in the Weight of a Camping Tarp?
Similar to tents, the "packed-weight" of a camping tarp might not mean exactly what you think it means.
The packed weight is typically the total combined weight of all the components included with a tarp from the manufacturer. 
Backcountry traps typically include a stuff sack, but may also include ropes and ground stakes. Essentially, it's the "what's included in the box" weight.
For backpacking and backcountry trips, the "trail-weight" of a tarp may strip out a lot of the included hardware for a bare minimum tarp set up.
Pro-tip: When planning your next camping trip, it's a good idea to consider the packed weight of a tarp. This will ensure you're using a conservative value in measuring the total weight of your gear.
What Affects the Weight and Cost of a Camping Tarp?
Just like a camping tent, the weight and cost of a camping tarp boils down to 4 key aspects – fabric material, fabric coating, size (pack-ability), and hardware.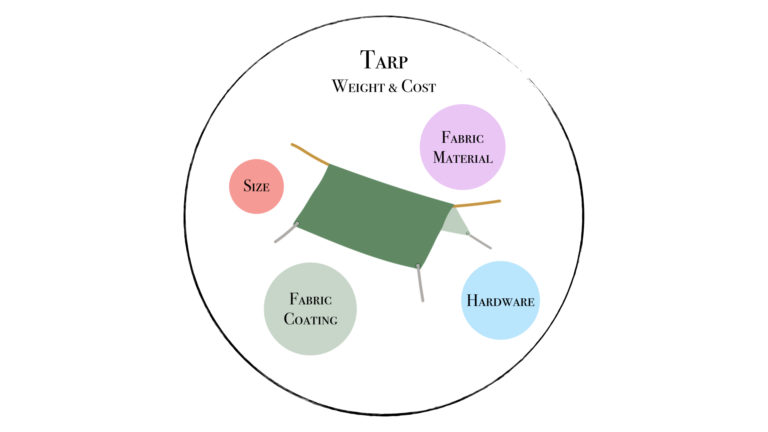 The primary role of a tarp fabric is to keep you sheltered from the elements, whether it is from rain, snow, or excessive wind.
To maximize the performance of the tarps, manufacturers select specific fabrics to minimize weight and cost.
And, since the fabric makes up a large proportion of the total packed weight of a tarp, it's interesting to see how some companies select materials.
Typically, tarps are made from synthetic fibres which are strong, moisture resistant, and lightweight. 
The most common tarp fabrics are nylon, polyester, and polyethylene.
Nylon and its variants are typically high strength and lightweight.
Polyester and its variants are generally more durable
Polyethylene is inexpensive but heavy and not packable
Canvas tarps are too bulky for camping use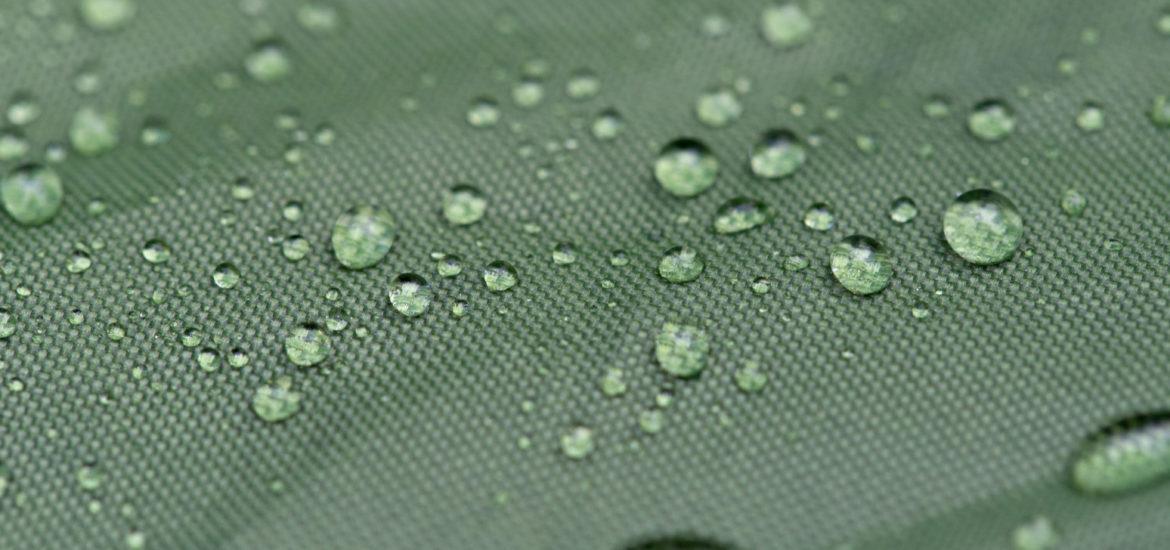 To enhance the water repelling performance of tarps, manufacturers typically apply a waterproof coating to one side.
Waterproof coatings are reserved for nylon and polyester woven fabric tarps, but are not required for polyethylene tarps which are intrinsically waterproof.
Waterproof coatings are typically made from polyurethane or a combination of polyurethane and silicone. Coatings are applied to the fibers as a liquid, then cured with heat.
According to manufacturers, polyurethane is widely used because it's:
Inexpensive
Achieves high hydrostatic head (waterproof rating) of >10,000 mm
Accepts fire retardants
Doesn't degrade the fiber material
Silicone is typically applied to the opposite side of polyurethane coated tarps. Silicone is advantageous because it's:
Waterproof longevity is better than other coatings
Chemically more waterproof (hydrophobic)
Because of the coating process, these tarps are typically more expensive than uncoated tarps.
Pro-tip: For more detailed information on coatings and materials, check out this in-depth article about Waterproof Fabric Coatings.
This one is a bit of a no-brainer, but tarp weight scales pretty much linearly with tarp size. That means a tarp that is double in area is pretty much double in weight.
It's not rocket science… it's geometry and density!
Also, not surprisingly, cost does not scale with linearly with size. The cost of a tarp actually gets cheaper the larger it gets.
Similar to other manufactured goods, outdoor retailers typically price larger versions of tarps at slightly lower costs per unit weight or area.
So, if you're looking to get the most bang-for-your-buck, get the largest the larger version of a tarp which fits within your budget.
Tarp are typically design with two distinct types of attachment points – either metal grommets or fabric loops.
Lightweight tarps generally utilize fabric loops, whereas bulky polyethylene tarps utilize grommets.
Other hardware that may be included with a tarp are ropes, ground stakes and adjustable poles, however most backpacking tarps do not include these items in the packed-weight.
It's important to pack the right amount of additional hardware to fully set up a tarp in the field, otherwise you'll risk creating an inadequate shelter and campsite.
Camping Tarp Cost & Weight Comparison
To determine the average packed weight and cost of different tarps, I consolidated and compiled a list of over 25 different tarp specifications from 7 different manufacturers.
The top camping tarp manufacturers included Mountain Equipment Coop (MEC), Recreational Equipment Inc. (REI), Kammock, Sea to Summit, Aqua Quest, and Texsport. I also considered Amazon Basics in my analysis as a potential low-cost alternative.
I considered the total tarp area and cost (MSRP in USD) for each tent capacity. The table and sections below summarizes the data collected.
| Tarp Type | Polyethylene | Nylon/Polyester |
| --- | --- | --- |
| Packed Weight - Average (kg/m²) | | |
| Packed Weight - Maximum (kg/m²) | | |
| Packed Weight - Minimum (kg/m²) | | |
| | | |
| | | |
| | | |
How Much Does a Tarp Cost?
A polyethylene tarp costs on average $2.00 per square meter, and ranges from a maximum of $3.75 to a minimum of $0.60 per square meter.
A nylon or polyester tarp with waterproof coating costs on average $13.90 per square meter, and ranges from a maximum of $38.50 to a minimum of $3.90 per square meter.
How Much Does a Tarp Weigh?
A polyethylene tarp weighs on average 102 grams per square meter, and ranges from a maximum of 122 to a minimum of 86 grams per square meter.
A nylon or polyester tarp with waterproof coating weigh on average 91 grams per square meter, and ranges from a maximum of 167 to a minimum of 37 grams per square meter.
There are loads of tarps on the market these days which can make it very confusing to find the right one to suit your needs.
To keep the decision-making process simple, I highly recommend these three tarps for camping in less than ideal weather conditions.
Personally, I own a MEC Silicone Scout tarp for backcountry camping and a large polyethylene tarp for car camping. They've easily stood up to torrential downpours and fierce winds.
Best Budget-Friendly Tarp
If weight isn't an issue but cost is, I'd recommend purchasing and using a polyethylene tarp. They are manufactured inexpensively and are durable enough for car camping.
The great thing about polyethylene tarps is that they can be found at all local hardware stores. So, if you need one last minute, you can easily pick one up!
For most campers, polyethylene tarps are the perfect option to shelter from the rain.
As I suggested, first check your local hardware or outdoor store for polyethylene tarps. If you need to find one online, this tarp on Amazon is a perfect size and is relatively cheap!
Best Tarp for Backpacking
For backpackers and backcountry campers, a lightweight tarp is essential. But, lightweight nylon and polyester tarps come at a premium price.
The $70 REI Co-op Trailbreak Tarp (12' x 12') is a great option for most campers. For its size and performance characteristics it's the best value.
Alternatively, the next best value option is the Aqua Quest Defender Tarp (15′ x 15′). This tarp is fantastic for larger groups.
Its large size can create a massive sheltered area to keep people, equipment, and supplies out of the rain or protected from the sun.
This article contains affiliate links, which help support this blog at no cost to you!