Sometimes, you can end up purchasing a camping tent that leaks and shows tell-tale signs of wear and tear after a single rain and wind storm.
That's because not all camping tents are designed and engineered to handle extreme weather conditions, especially heavy rain and high winds.
And, instead of buying a random "5 star" tent online, selecting the right tent mean matching the technical specifications with the actual conditions you might face while outdoors.
So, let's explore some important aspects of tents including:
Selecting the Right Tent for Rain and Wind
There are literally hundreds of tents on the market, all at varying price points and levels of quality.
But, not all tents are specifically designed and manufactured to handle large amounts of rain and high wind for extended periods.
In fact, tents are intrinsically triple constrained by three competing factors: fabric strength, waterproof rating, and weight.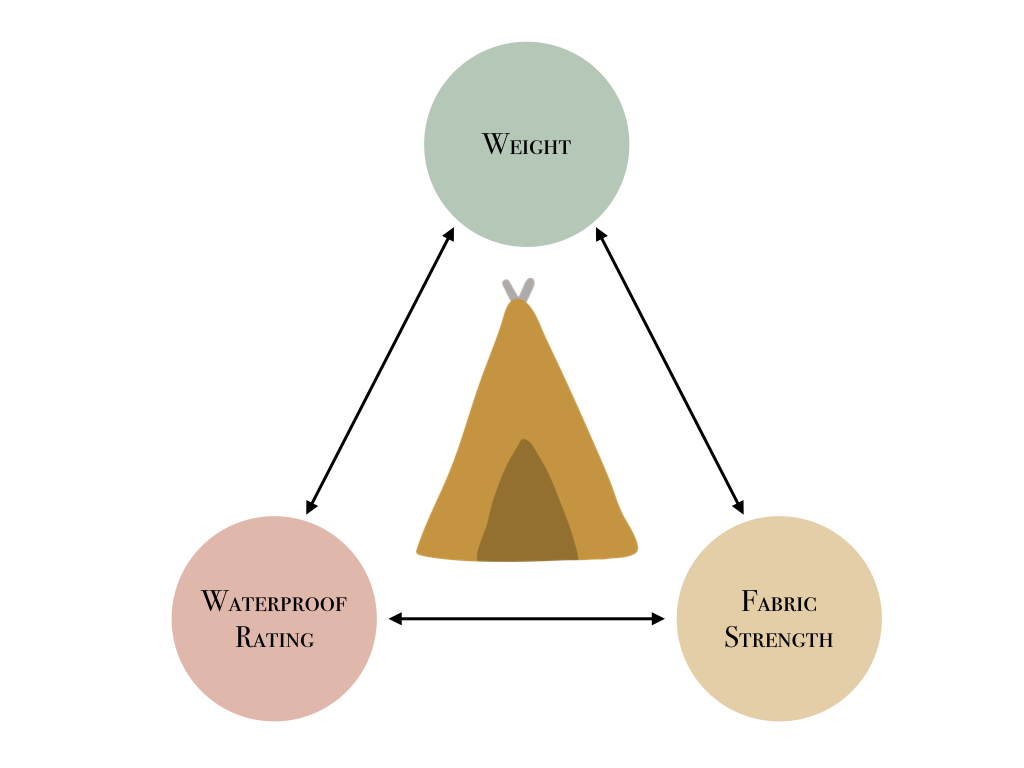 Certainly one of the biggest factors campers seem to focus on when selecting a tent is weight, especially backpackers and backcountry campers.
A tent's weight is the combination of its dimensions, materials of construction, and components.
Simple, light-weight tents are usually made from light-weight fabrics and poles, which means they may need to sacrifice strength and durability.
So, whether you are selecting a tent for backpacking or car camping, there can be a large difference in weight.
A good tent manufacturer will try to maximize the performance of a tent while also minimizing the pack weight.
A tent's fabric strength boils down to three aspects: fabric type, denier and thread count.
The right combination of all three can result in a flexible yet firm, durable and strong tent fabric.
Fabric Type
The most common tent fabrics are nylon and polyester. Nylon and its variants are typically high strength and lightweight. However, polyester and its variants are generally more durable.
Denier
Denier is generally a measure of the diameter of an individual thread in a fabric. The higher the denier, the larger the fiber diameter.
Larger diameter, high denier threads are generally stronger than thinner denier values.
Thread Count
Fabric thread counts means the total number of vertical and horizontal threads in one square inch.
So, higher denier fabrics generally have a lower thread count because the fiber diameters are larger, and vice-versa.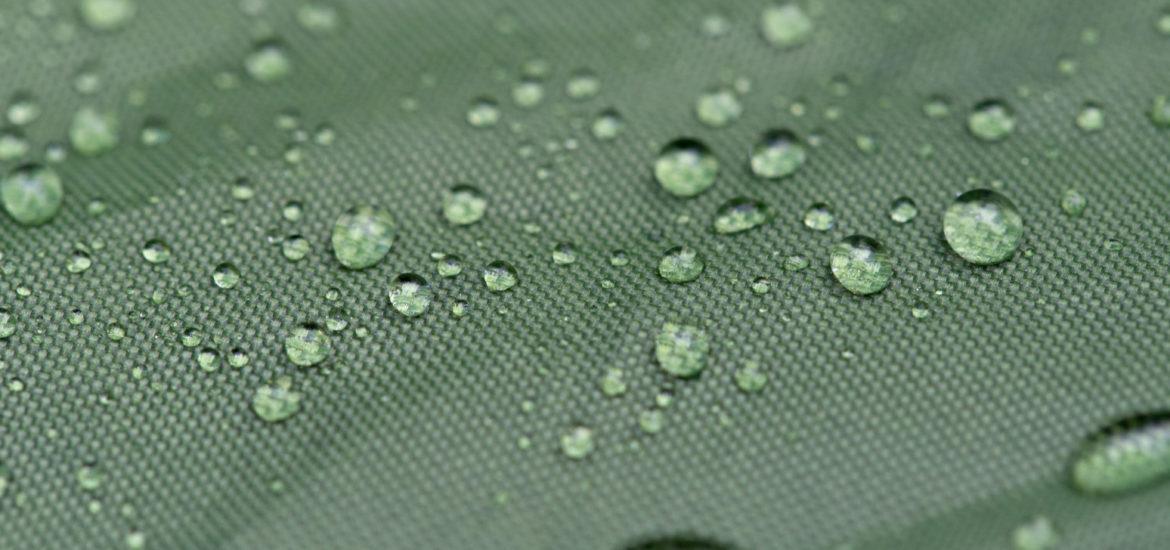 The "waterproof-ness" of a tent fabric is a combination of the base material and the coating applied. Different combinations of fabric and coatings yield vastly different waterproof ratings.
The waterproof rating for tent fabrics are measured in hydrostatic head (HH) or water column height, measured in millimeters (mm).
To test and rate each fabric, manufacturers fill a column of water above a flat piece of tent fabric. Water is continually added to the column until moisture is detected on the other side. The level of water is then measured and the height (mm) is the waterproof rating.
The higher the rating, the better the material is at preventing water from seeping through.
Fabric seams are also points of water infiltration, so a tent with fully "taped" or "sealed" seams are better. Seams are usually points where failures can occur and water can enter a tent.
Pro-tip: Repairing a tent that is no longer waterproof is fairly easy – you can even do it yourself! To fix a leaky seam, check out this how-to article [link]. To apply a new waterproof coating on a rainfly or tent floor, you'll need a durable water repellant spray.
Tent Comparison [Example]
Let's compare two popular tents and see which on is better to handle stormy weather.
Tent 1 – MSR Elixir
Technical specifications for rain and wind:
Canopy: 40D ripstop nylon & durable water repellant
Floor: 70D taffeta nylon 3000mm Polyurethane & DWR
Rainfly: 68D ripstop polyester 1500mm Polyurethane & DWR
Tent 2 – Marmot Halo
Technical specifications for rain and wind:
Canopy: 68d 100% Polyester Ripstop 1800mm F/R
Floor: 70d 100% Polyester Taffeta 2000mm F/R
Rainfly: 68d 100% Polyester Ripstop 1800mm F/R
Both the Elixir and Halo tents include ripstop fabric embedded into the base material for added tear protection, however the Elixir is mostly made from nylon (which is lighter) where as the Halo is made entirely out of polyester (more durable).
The fabric denier is identical except for the canopy. The Elixir is made from a finer denier, making it a bit more flexible, where the Halo is thicker making it a little more stiffer.
When it comes to waterproof rating, the Halo has a better rainfly, however the Elixir has a higher rated floor.
In my opinion, if the rainfly is greater than 1500mm that's a good enough waterproof rating.
Overall, both tents are fantastic options for camping. However, I would give a slight edge to the MSR Elixir for wet weather camping.
How to Increase a Tents "Weatherproof-ness"? [3 Simple Tips]
There are 3 simple ways to increase your tent's performance to better handle rain and wind.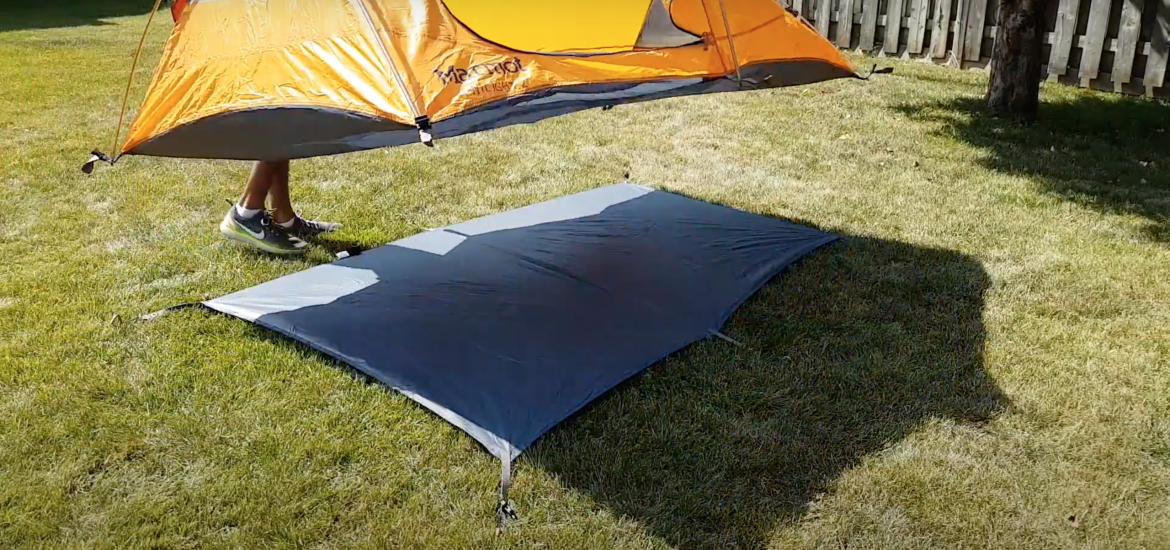 Tip 1 – Use a Tent Footprint
A tent footprint, or ground sheet, is an added layer of protection you can place between the bottom of your tent and the ground.
A footprint is typically made from an impermeable layer which provides improved protection from ground water penetration.
It is important that a footprint is sized to either match a tent's floor dimensions exactly or, better yet, be an inch smaller to prevent water from collecting around the exposed edges.
Check out my article Why You Need a Tent Footprint for Camping for more information on proper footprint set up!
Most tents are design with guy point embedded into the rain fly. These guy-out points serve two purposes:
Help to secure the tent to the ground
Maintain the tent and rainfly shape
So, during wet and windy conditions, water more easily sheds off and your tent doesn't rattle around in the wind.
Make sure your tent includes enough ground stakes to guy out all the lines properly.
Tip 3 – Avoid Ground Depressions
Water tends to pool in low lying areas as well as depressions during and after a storm.
So, to prevent yourself from waking up in a pool of water, it's a good idea to select an area that isn't in a low spot on the ground.
Better yet, select a spot with a slight slope so that water doesn't collect under your tent.
3 of the Best Camping Tents for Rain and Wind
There are hundreds of tents on the market these days which can make it very confusing to find the right one to suit all of your needs.
To keep the decision-making process simple, I highly recommend these three tents for camping in less than ideal weather conditions.
Personally, I own a Marmot, and my good friend owns a MSR. They've easily stood up to torrential downpours and fierce winds. The Forceatt is also a stellar low-cost option for many campers.
Best Backcountry Camping Tent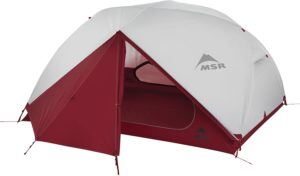 The Elixir is built with high quality materials ensuring a phenomenal waterproof rating. It's also very lightweight making it the perfect companion for backcountry camping and backpacking.
MSR is a company that really takes pride in their products and the Elixir is no exception. It perfectly balances performance and function.  
It's a great option for those looking for a rock solid tent that can withstand the nastiest rain and wind storms.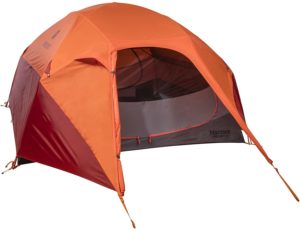 The Limelight is a great car camping tent that can weather most rain and wind storms. The build quality is stellar, especially the 2000mm rated floor and 1500mm rated rainfly.
I recommend Marmot tents to family and friends because they include a footprint / ground sheet. The footprint perfectly compliments the tent and extends the lifetime of the tent floor as well as water protection from ground water.
The Limelight is a fool-proof, waterproof option for anyone looking for a great car camping tent that can keep them dry and protected from the elements.
Best Budget-Friendly Tent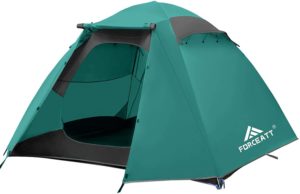 Just because a tent is inexpensive doesn't mean it's a bad option. The Forceatt is a fantastic, low-cost tent for campers interested in a more budget-friendly option.
Not only is it well priced, it also doesn't skimp out on its weather rating. This tent is built to handle downpours and strong wind gusts.
This article contains affiliate links, which help support this blog at no cost to you!